TSANG
CLAIMS
WORLD
TITLE IN BULGARIA
Sixteen-year-old Amelie Tsang claimed the World title in the Cadet Women's Foil Individual event on the fifth day of the World Championships in Plovdiv, Bulgaria, today.
Ranked eighth in a field of eighty-three, Tsang won five of her six first round fights and went into the knockout stage of the tournament ranked ninth.
She earned a bye through the round of 128 before going on to beat O'Neil (AUS) 15-3, Jakubowska (POL) 15-12, Garyfallou (GRE) 15-9 and Kuritzky (ISR) 15-9 to make the podium matches.
Her semi-final opponent and number fifty-two seed after the poules, Wong Shun Yat (HKG), had taken out the number four seed on route to the podium. Containing the energetic Wong well in the opening minute, Tsang took a 4-1 lead, but Wong adapted and closed the gap to just one hit. Tsang, however, demonstrated the ability that she had shown all day to change her tactics, leading 7-4 at the first break. The second period followed the same pattern with Tsang opening a gap before Wong closed it back up again. Wong then took the lead for the first time in the match at 14-13, only for Tsang to level before the second break. Showing a huge amount of bravery and disciplined distance, Tsang took a fantastic 15-14 win with a remarkable stop-hit.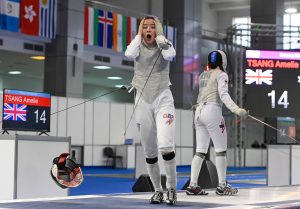 The final was against Italy's World number 41 and Silver medallist from the Jena World Cup, Greta Collini. Both fencers took their time to ease into the match but due to the Italian's strong counters, Tsang adopted a patient approach to her preparations and led 6-5 at the first break. Tsang landed a couple of flicks to the shoulder earlier in the fight, but at the start of the second period that became her go-to weapon as she went 10-7 up. Then came the hit of the match – a beauty of a stop-hit – which she followed up with a close-quarters prime riposte. A late rally from Collini came to nothing as Tsang claimed the World title with a simple attack, winning 15-11.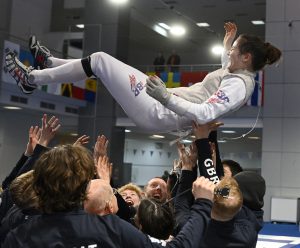 After her victory, Amelie said,
"I think I'm quite speechless. I don't think it's really sunk in yet, but it feels really good and I'm really happy. At the beginning in the morning, I was very tired and it took a while for me to find my rhythm since I fenced yesterday, but I think as I got further through it was really good and I'm really happy with how I fenced in my semi-final and final. I feel like there's a lot of pressure that's just been taken off which is nice. I feel emotional but in a good way.
"Going forward, it shows me what I'm capable of, especially as it's a really nice way to end the Cadet season and to start my Junior season. Then for the future, now there are more Senior [World Cups] so I'll be back here in a few weeks time fencing in the Plovdiv World Cup. There's also the Team event tomorrow, third day in a row but I'm really excited for that too. It'll be fun fencing with all of my teammates.
I'd like to thank everyone who supported me: my coach Pete, my mum, my dad, my sister, and all my friends as well."
Amelie's coach, Peter Barwell, said,
"I'm so happy for Amelie, I've always known she had something special but today everything lined up and she is now Cadet World Champion. As her coach, I'm so proud of her and all the work she has put in especially managing a Junior and Senior season as well! It just shows that hard work and dedication can pay off. This is a huge success for ZFW and British Fencing alike. The future is bright and I'd like to thank all those that supported and helped Amelie and I today to create a piece of history for GB."
The full results are available here.
Amelie is one of the young athletes on the British Fencing Athlete Development Programme, funded by Sport England. More information about ADP camps, programmes and updates can be found here.
Don't miss the latest news. Subscribe to our weekly summary email, The Fencing Digest, featuring the previous week's latest news and announcements. Sign up here.