NOMINATIONS ARE OPEN FOR 25TH UK COACHING AWARDS
The UK Coaching Awards aim to celebrate those who have helped to support athletes at every level. Nominations for this year's awards have now opened.
As we jump into a summer of great sport, UK Coaching is opening nominations for its annual awards, highlighting the fundamental role that coaches play at every level of the sporting spectrum. From tennis in the park to the Wimbledon Championships, the skate park to the Commonwealth Games, grass-roots pitches to the UEFA Women's Euros, coaches are there, developing and leading their participants forward, helping to make memories.
Now is the time to celebrate the great work that coaches do.
With 13 categories open, the awards – in their milestone 25th year – seek to reward the fantastic achievements of coaches who have truly peaked at their vocation or through volunteering, demonstrating what great coaching means, and helping people to build a healthy relationship with physical activity and sport.
UK Coaching has introduced two brand-new awards to recognise the digital transformation of the coaching profession that was accelerated during the pandemic:
• Online Coach of the Year – recognises a coach who delivers #GreatCoaching online via social media, apps, or other online methods.
• Podcast of the Year – recognises a coach-led podcast that delivers, inspires, and informs #GreatCoaching.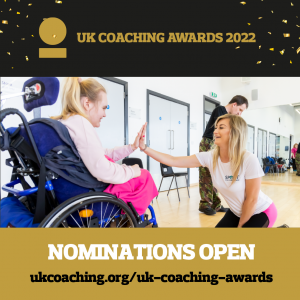 UK Coaching's CEO Mark Gannon, said:
"The UK Coaching Awards is an opportunity to recognise those coaches who live and breathe their craft. The Awards celebrate coaches who go the extra mile to deliver excellent experiences for their participants and teams. We'll hear the inspiring stories of how people have achieved, overcome and developed as a result of their coach. It takes lots of perseverance and time to become a great coach and every year we are astounded at those who through self-determination and investment in themselves and their practice, have become truly great coaches.
"Being a great coach is not about winning, it's about inspiring and supporting the person, team or people in front of you. It's about knowing what makes them tick, and how to get the best out of them.
"The last couple of years haven't been easy. The latest data from Sport England reported over 6 million people gave up their time to lead activity sessions in the 12-month period between November 2020 and 2021, and many of these will have been coaches. That's why we would like the public to really get behind our amazing coaches and show them how much they mean to us.
"There has never been a more important time to celebrate your coach, and what better way than nominating them for a prestigious UK Coaching Award?
"I look forward to reading all the nominations and hope that the public once again makes this a difficult task for the panel to choose our winners."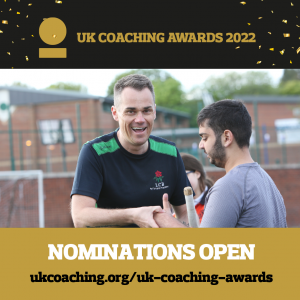 Steve Kemp, Pathways Director at BF, said:
"When in conversation with coaches, you often hear what are perceived as little moments, those coaching moments where the impact is more profound than seen and possibly known at the time. The Coaching Awards are a great opportunity to stop, reflect, and share some of those moments that make coaching so special. I look forward to hearing about some of those moments."
Overall, there are 13 award categories being celebrated at this year's UK Coaching Awards. All celebrate #GreatCoaching and showcase the coaches and organisations that make a difference. Collectively, they are:
• Community Coach of the Year – Children and Young People
• Community Coach of the Year – Adults
• Young Coach of the Year
• Change a Life Award
• Talent Development Coach of the Year
• High Performance Coach of the Year
• Online Coach of the Year
• Coaching Podcast of the Year
• Inclusive Coaching
• Coach Developer of the Year
• Lifetime Achievement Award*
• Coaching Technology of the Year*
• And the Coaching Chain*, which recognises contributions made by individual coaches throughout an elite athlete's life in helping them achieve their potential.
*These award categories are not open for public nominations.
Public nominations for the awards will close at 10:00 on 12 September followed by an independent and impartial judging process. To ensure welfare is at the heart of the UK Coaching Awards, UK Coaching has a strict set of guidelines and criteria, through which an independent judging panel select the finalists. All finalists are asked to sign and adhere to the UK Coaching Code of Conduct. All nomination information is treated as confidential until shortlists and winners are announced.
For the Awards, UK Coaching uses the broad definition of coaching and welcomes nominations on behalf of coaches, instructors, leaders, teachers, trainers, and others who support people to achieve their sport and activity goals.
The 25th UK Coaching Awards will take place at The Queens Hotel in Leeds, on 6 December 2022.
Don't miss the latest news. Subscribe to our weekly summary email, The Fencing Digest, featuring the previous week's latest news and announcements. Sign up here.