Warsaw Para World Cup 2022 – GBR Team report
The full GBR report from Szabla Kilinskiego, the Warsaw Para World Cup that was held from the 7th – 10th July 2022.
Fencing started at 9am on Thursday 7th July, with Men's Epee Cat A, Piers Gilliver, Oliver Lam-Watson and Josh Waddell. At the same time Women's Sabre Cat A started, with Gemma Collis.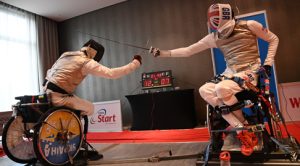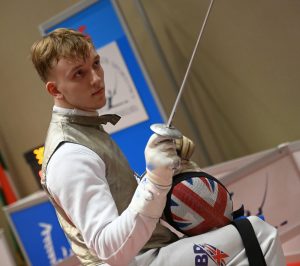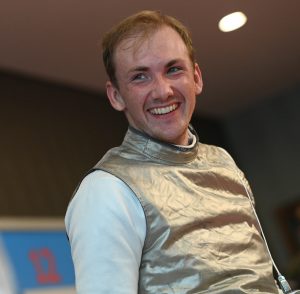 Shah Rashid also fenced in the Men's Sabre Cat B event. Shah, who achieved his first International Individual medal, said, "After I had lost in the last 4 I did not know what to feel or how to feel. I had dreamed of the day where I would win an individual medal at a world cup but when it happened I didn't have the same reaction as all the other people that I had seen for many years. What helped me in that moment was to see how happy my team were for me and that helped me accept even though I had lost, I did achieve a huge mile stone in my career."
Piers won GOLD, Gemma SILVER and Shah BRONZE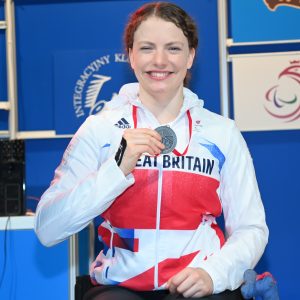 Friday 8th July got off to a start at 9am with Emily Holder in the Women's Foil Cat A, Women's Foil Cat B with Justine Moore and Piers Gilliver in the Men's Sabre Cat A. Then at 11am, Dimitri Coutya and Shah Rashid started the Men's Epee Cat B. A very on-form Dimitri won GOLD.
On Saturday 9th July, the competition started at 8am with Dimitri Coutya in the Men's Foil Cat B, and Gemma Collis and Emily Holder in the Women's Epee Cat A.
Men's Foil Cat A started at 11am with Piers Gilliver, Oliver Lam-Watson and Josh Waddell for GBR. The Women's Epee Cat B also started at 11am, with Justine Moore.
By the end of fencing this day, GBR had GOLD for Dimitri, SILVER for Gemma and BRONZE for Oliver.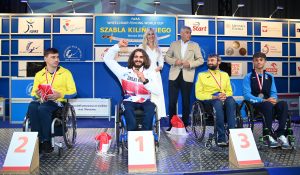 On Sunday 10th July, the Team events commenced. The Women's Epee team (Gemma Collis, Justine Moore and Emily Holder) faced Ukraine in the first match. UKR fenced well, and having led through a lot of the match, at the end of the 8th period the score was 34-39 to UKR. Gemma Collis went on for the last fight, and fenced amazingly, to bring the score to 40-40 at time. The last minute was tense, but Gemma scored the last hit, bringing victory to GBR.
The next match was against Thailand. The THA team was extremely strong, with their lead fencer, Saysunee Jana being a multiple Paralympic medallist from 5 Paralympic Games. The GBR fencers went into the match with great confidence, and fenced with enthusiasm from the start. After some brilliant fencing from all the GBR women in this match, it finished with a victory to THA 45-22. It was, however, an extremely courageous effort from GBR against the eventual silver medallists.
The next match, fighting for 3/4th place, GBR met France. This, as you would expect, was a tough match, but again, the fencers rose to the challenge, and kept the score close throughout. The final score was 40-35 to FRA, which shows how strongly and determinedly the team fenced.
All members of the team made a brilliant contribution to the final result, and worked together with tactical discussions, idea-sharing and massive encouragement. I was extremely proud of the team members, with the team spirit and dedication they showed throughout all the matches. Given that these three have never fenced together in an international World Cup Team event, and that no women's teams have competed internationally since 2012, this was a huge step forward.
The Men's Foil Team (Piers Gilliver, Dimitri Coutya, Oliver Lam-Watson and Josh Waddell) started strongly, as No. 1 seeds, and so received byes into the Last 8. They fenced convincingly against the Thailand team finishing 45-26 to go into the semi-finals. As always, the men brought complete professionalism to their fencing, and dominated throughout with a great display of fencing. Josh Waddell fenced very well n the early stages of the match, and gained useful experience at this level. The semi-final was against a strong French team, but again the men fenced very well to beat them 45-37.  Proceeding to the final, GBR met Italy. Here, despite some tough, hard-fought contests, GBR beat ITA 45-37 to win GOLD.
In the afternoon, the Open Team Sabre began only a short time after the end of the Men's Foil Team! This is an interesting format. Two women, and two men, two Cat As, two Cat Bs. GBR (Piers Gilliver, Shah Rashid, Gemma Collis and Justine Moore) went in as No. 3 seeds, and met Thailand in the Last 8. Despite fighting hard, the GBR team lost 17-20. In the 5/6 match, GBR met Germany and on good form, beat GER 20-12 to take 5th place.
GBR was placed 2nd in the medal table, with 4 GOLD, 2 SILVER and 2 BRONZE.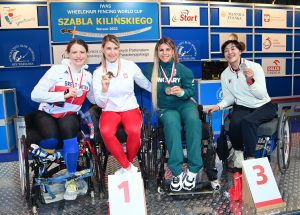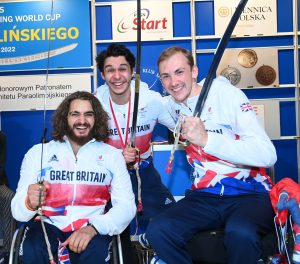 Updated July 18th: Sabre Presentations list
Piers Gilliver (Great Britain) – Epee Cat. A
Dimitri Coutya (Great Britain) – Epee Cat. B
Michinobu Fujita (Japan) – Epee Cat. C
Marta Fidrych (Poland) – Epee Cat. A
Saysunee Jana (Thailand) – Epee Cat. B
Maurice Schmidt (Germany) – Sabre Cat. A
Adrian Castro (Poland) – Sabre Cat. B
Kinga Drózd Dr (Poland) – Sabre Cat. A
Rossana Pasquino (Italy) – Sabre Cat. B
Michał Nalewajek (Poland) – Foil Cat. A
Dimitri Coutya (Great Britain) – Foil Cat. B
Michinobu Fujita (Japan) – Foil Cat. C
Eva Andrea Hajmasi (Hungary) – Foil Cat. A
Saysunee Jana (Thailand) – Foil Cat. B
The full results can be seen here:   http://www.wheelchairfencing.live/en/
Report provided by Maggie Maynard, Para Fencing Manager.
Don't miss the latest news. Subscribe to our weekly summary email, The Fencing Digest, featuring the previous week's latest news and announcements. Sign up here.