WELCOME TO SafeGuard!
SafeGuard is BF's new safeguarding training offer and will be going live from the end of June 2023.
BF is rolling out its new safeguarding training programme, SafeGuard.
This will begin in England and Wales, and it is hoped that it will spread to the other Home Nations in due course.
BF is introducing this new offer to develop a training programme that works best for the sport, provides flexibility, and upskills the workforce whilst avoiding duplication.
Why is BF making this change?
Feedback has consistently told us that members were 'bored' with the previous offer, which could be hard to access and was repetitive. We have risen to that challenge and developed bespoke training that has been designed specifically for fencing. This will be delivered in a variety of ways, allowing us to be more flexible and targeted.
We have listened to the feedback from the fencing community, and it was clear that a change was needed to meet what you wanted. The wellbeing of everyone in our fencing community remains our number one priority and we want to ensure that our training matches that priority.
We will be bringing all safeguarding training in-house with a creative flexible offer, that allows new ways of accessing training and that meets best practice. It will be tailored to specific roles in fencing, starting from a common core which will be shared amongst the workforce. SafeGuard will allow us to be more dynamic in what we do and respond to challenges and issues in our sport.
We will be explaining this more fully in our webinar, which will be announced shortly.
Why SafeGuard?
SafeGuard starts from the premise that the wellbeing of everyone in fencing is our number one priority, and we want everyone to share that view. We want people to share our passion for creating an environment where everyone can:
Be safe
Have fun
Feel welcome
This message runs through all our safeguarding offers and takes a cradle-to-grave approach, and includes children and adults alike.
What will SafeGuard look like?
SafeGuard is a personal learning journey that will take members through courses and CPD depending on their role within our community.
It all starts with Core. Core is what it says: it is the core of our six year training programme. Everyone who requires safeguarding training (perhaps to be on the Coach Register) will start at this point.
Once you have attended Core, we will then offer a new CPD approach which allows you to develop your skills in a flexible way. You will be able to choose a minimum of one module for the next six years from a bank of online learning resources, which will cover a range of different topics specific to your role, with a short Core refresh in Year 4. This approach will allow you to develop your safeguarding knowledge and skills  over time.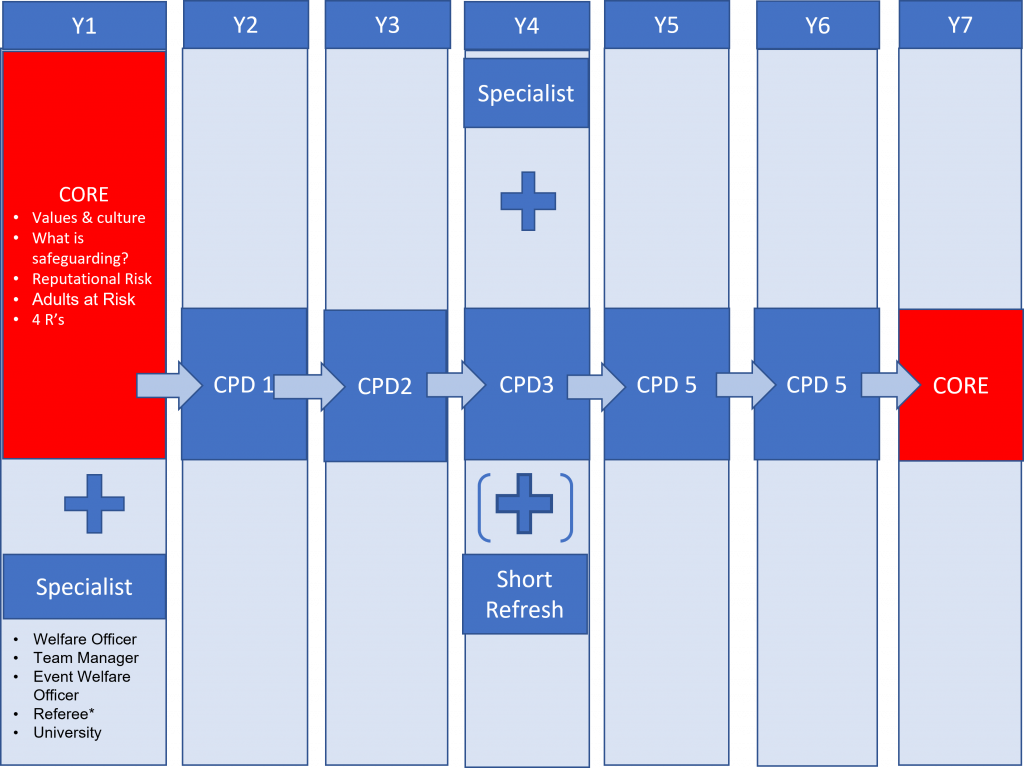 What is Core?
Core is a bespoke safeguarding training course for fencing. It will be delivered through a virtual classroom and will take three hours. It will cover the following:
Understanding that "Core Safeguarding" is everybody's responsibility.
Understanding that "Core Safeguarding" runs through everything that BF and its membership are engaged with.
How to contribute to a safe and inclusive culture.
Developing an understanding of the 4 R's.
Who needs Core?
Anyone who is on a workforce register will need to do Core when their current safeguarding training expires. Please see the columns below that show Core within the requirements for roles: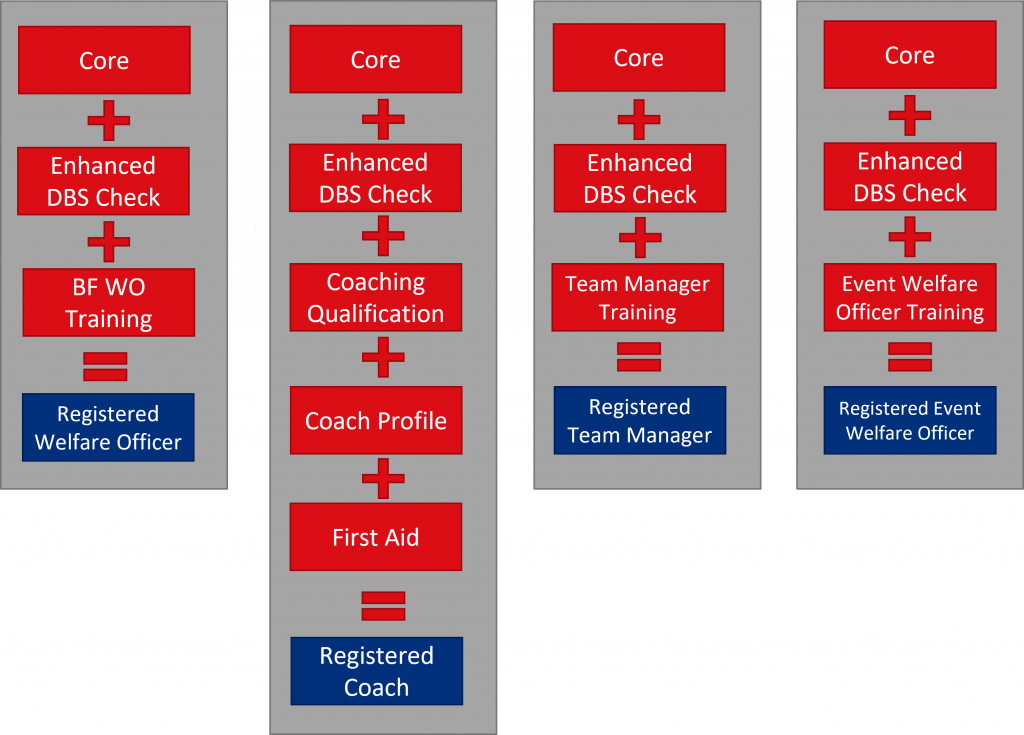 Core will be adopted for register requirements from end of June 2023. We will not accept any alternative safeguarding training in England and Wales attended after the 31st July 2023.
What about existing training?
Your current certificates will be valid for three years. For example, if you completed your Safeguarding and Protecting Children course in March 2022, you would need to attend a Core course by March 2025. You are welcome to attend a course sooner than the expiry, but will then enter into the SafeGuard programme at that point and need to undertake annual CPD in order to keep your registration.
How do I access the training?
Core, BF Welfare Officer, Event Welfare Officer and Team Manager training will be delivered as face to face training, either online through a virtual classroom, or in person. The courses can be booked here.
CPD Modules will be available shortly through the BF Learning Platform.
Any enquiries, please contact us.
What happens next?
BF is developing a webinar all about SafeGuard. Look out for this coming soon.
We will update the SafeGuard Explained page with information and FAQs as necessary.
Don't miss the latest news. Subscribe to our weekly summary email, The Fencing Digest, featuring the previous week's latest news and announcements. Sign up here.