2023 CADET AND JUNIOR NATIONAL CHAMPIONSHIPS
Last Updated: 07.07.2023
What are the Cadet and Junior National Championships?
The Cadet and Junior National Championships are the National Championships for Cadet (U17) and Junior (U20) Fencers. This event is only open to those fencers who are eligible to be selected for GBR.
New for 2023, a U14 Pilot Event will also take place alongside the Cadet and Junior Championships.
Dates:
Cadet National Championships: 16th September 2023
Junior National Championships: 17th September 2023
Venue:  David Ross Sports Village, University of Nottingham, NG7 2RD
Eligibility Requirements: here
To enter this event, you must upload your passport/document information to your Sport80 profile.
How to add your Passport/Document Information:
Log into your account and click on your profile
Click 'view profile'
Select 'Passport Information' from the sidebar
Click 'Add Passport Information' and follow the steps to enter details
Minimum ages: here
Membership Level Required: Compete Membership
Age Groups:
Juniors – under 20 on 1st January 2024, i.e. born 2004 and at least 13 on the day of the event
Cadets – under 17 on 1st January 2024, i.e. born 2007  and at least 11 on the 1st January 2024
GBR Selection Requirement: Yes. These events are a pre-requisite event for any athlete wishing to be selected for Great Britain at Junior and/or Cadet FIE or EFC competitions, more information here.
Format: The format will be one round of poules, with a 10-20% cut, followed by DE.
Ranking Multiplier: The ranking multiplier will be 200.
Entries: Entries will be taken via the Sport80 system
A waiting list will be in operation if events reach their entry limit. The waiting list will be reviewed by BF, and were possible, if additional space becomes available, those on the waiting list will be contacted to take their place.
Entry Fee:  £75. Please note due to scheduling, participants are only able to enter ONE weapon a day.
Entry Opening Date: Monday 26th June 2023 (09:00)
Please login to your Membership Account to Enter
Entry Closing Date:  1st September 2023 (17:00)
Late entries: After the closing date may be accepted at the late entry fee (£125) at the organisers' discretion.
Contact events@britishfencing where late entries will be dealt with on a case by case basis.
Check-In: There is no check-in at this event.  Fencers must report to the referee on their piste, ready to fence, 15mins before the scheduled start time.
Poules will be drawn and displayed online at 6pm the day before the competition.  Information will also be displayed at the venue.
Fencing can start a maximum of 10 mins before the official start time if all fencers for the competition are present at their piste.
Start times:
| | | |
| --- | --- | --- |
| Event  | Cadet National Championships– 16/09/2023 | Junior National Championships – 17/09/2023 |
| | | |
| Men's Epee | 09:00 | 09:00 |
| Men's Foil | 09:00 | 09:00 |
| Men's Sabre | 09:00 | 09:00 |
| Women's Epee | 13:00 | 12:30 |
| Women's Foil | 13:00 | 12:30 |
| Women's Sabre | 13:00 | 12:30 |
Referee Provision:
Clubs are required to provide a referee based on the number of Fencers they enter:
1-4 fencers   – no referee
5-9 fencers    – 1 referee
10+ fencers  – 2 referees
Note that is quota is based on per weapon per day. For example, a club entering four fencers into Men's Epee and four into Women's Foil are not required to provide a referee, however, if a club is entering five fencers into Men's Epee and three into Women's Foil, the club are required to provide one referee.
As this is the first year where this provision is in place, BF wants to work with clubs where they are required to provide referees in accordance with their club entries, in a collaborative manner.
Where clubs are required to provide a referee(s), they must inform BF of their referee name by Monday 4th September 2023 
BF are able to offer clubs a rate for accommodation costs where club provided referees can stay in the official BF hotel, where accommodation is required. Please get in touch with [email protected] as soon as possible to discuss this.
BF is not looking to fine clubs but will fine £250 in the following circumstances:
A club does not engage or respond to BFs communications and fails to provide referees.
A club agrees to provide support (Referee or other agreed support) following a conversation with BF and then fails to do so (excluding force majeure reasons).
Withdrawal: Fencers can withdraw up to 12noon the day before their competition.  This must be done via this online form
On the day withdrawals can be done via phone – please call/text 07738107026 on the day
Any fencer who has entered and does not present themselves to fence, except in a case of properly authenticated 'force majeure', will be penalised with a £250 fine with their British Fencing membership suspended until the payment of fine is received.  This fine will not apply if the fencer has withdrawn as per the procedure above. For withdrawals due to illness and injury a medical certificate will be required.
For a full description of the Withdrawal Process please click here.
Entry Fee Support Scheme:
The BF Entry Fee Support Scheme will be in place for this event.
BF is mindful of the rising costs of attending fencing events and the potential barrier to participation this creates for some members of our community.
As a result, BF is offering a limited number of free entries to qualified fencers to attend this. These will be offered based on financial need, not on ability. This scheme will cover 100% of the entry fee cost.
Applications must be completed per athlete. For multiple athletes from one household, please complete separate application forms.
Applications close Monday 14th August 2023 – 5pm
All applicants will be told the outcome of their application by close of play on Wednesday 16th August 2023
Field of Play Restrictions & Accreditations
Accreditation is not needed to gain access to the hall or to get onto the fencing floor where you can get up "close and personal" to the action. You will be behind the barriers placed around the "Field of Play".
The Field of Play is defined as being inside the barriers placed around the fencing pistes. We have those there as both a safety and learning feature – it stops fencers and referees being crowded during the event, allows for quick and easy access to the pistes for medical or welfare staff should they be needed and finally it replicates what a fencer and their support team will encounter at major events abroad and at home.
At all BF events, the Field of Play is set out as cones/barriers which are between 1-2 meters away from the back of the piste. Meaning that parents/carers/supporters can be nearby to assist with filling of water bottles/kit without stepping onto the Field of Play and requiring accreditation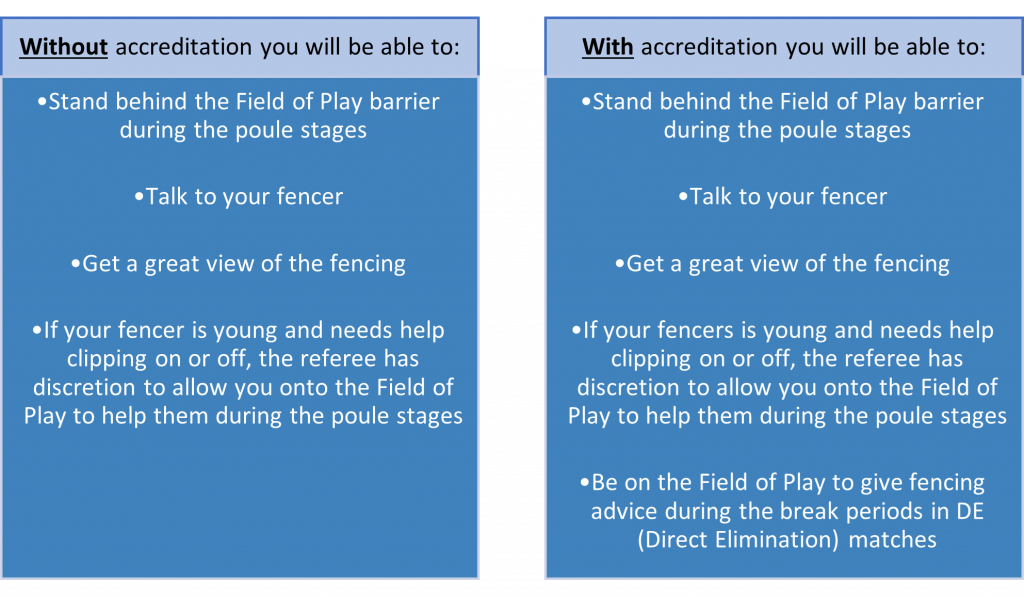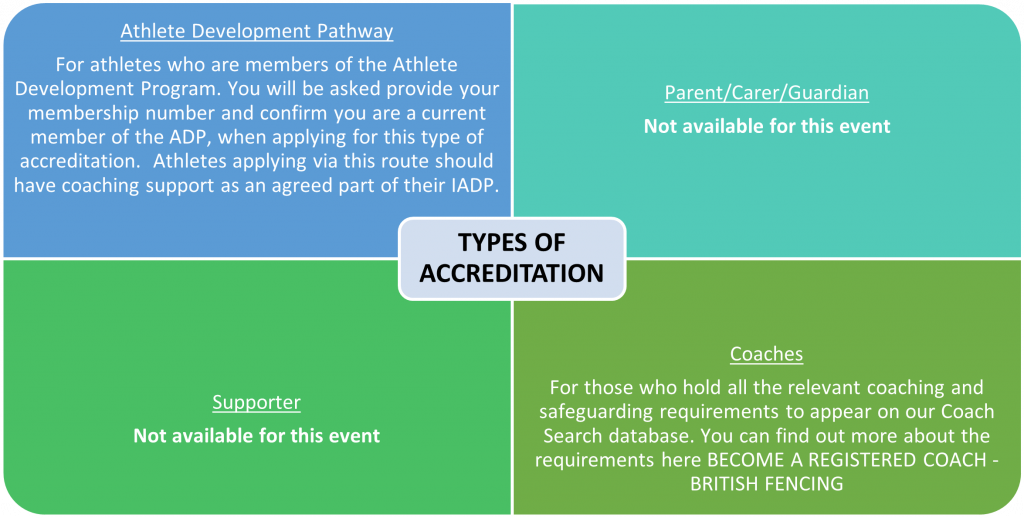 Club Information: Fencers should confirm their club is up to date on their membership profile before entering, as no changes will be allowed on the day of the competition.  Clubs must be registered with British Fencing.
Please note, that is is your Primary Club on Sport80 that pulls through to the competition.
Equipment:  All fencers must wear correct kit as per British Fencing rules.
Please Note:
Domestic Variations to FIE Rules can be found here
Sabre Gloves: This will include 800N sabre gloves as per the rule at http://www.britishfencing.com/news/latest-news/?n=841
Foil Chest Protectors m.25 4(c) – Any athlete competing wearing a chest protector (mandatory for Women's Foil, optional for Men's Foil) at Cadet, Junior, U23 or Senior BF ranking events must ensure they are FIE standard chest protectors (those covered with an FIE approved soft layer).
Masks: m.25.7.f. From 1st September 2022, masks that feature the two rear safety systems (securing devices) complying with FIE rules m.25.7.f must be used at all British National Championships at Cadet, Junior, U23 and Senior level. More info here.
Weapons Control:
Weapons control will be in operation for the Individual Foil and Sabre events, focussing on conductivity testing.
The following items ONLY will be required to be presented to weapons control:
Foil lame
Foil mask bib
Sabre glove
Sabre lame
Sabre mask
For Foil and Epee, masks, gloves, weights and gauges will be checked on the piste by referees.
Please note that the weapons control is not intended to act as a full safety check. The primary purpose of the check is to ensure equipment meets the conductivity requirements – i.e. scoring hits are registered. However, equipment may still fail due to safety reasons.
It remains the fencer's responsibility to ensure that personal fencing kit meets safety standards.
Weapons Control Opening Times:
Friday 15th September 2023 – 18:00-20:00
Saturday 16th September 2023 – 07:45: 12:30
Sunday 17th September – 07:45 – 13:00
We recommend that Women's Foil and Sabre Athletes use the Morning weapons control slot prior to the start of their competition, as due to the earlier Men's Foil and Sabre start time, it is likely that the majority of Men's Foil and Sabre Fencers will use the Friday and first few hours of the Saturday/Sunday Slot.
Medical: There will be a medical team the event throughout. They will be seated in an area clearly marked as MEDICAL.
Welfare: There will be a dedicated welfare officer at the event who will be clearly visible throughout. All welfare issues that arise at the event must be reported to the welfare officer present.
Sustainability: As part of BFs commitment to reducing the environmental impact of our sport, no single-use plastic bottles will be permitted on the field of play. We hope that the community will support efforts in this area and ensure that everyone brings re-useable bottles to the venue. Where possible, re-useable bottles will be on sale.
Prayer Room: There will be a prayer room available at the venue throughout the event. Please ask at reception or speak to a member of the team and they will direct you.
Disabilities: BF recognises that many disabilities are hidden and participants in competitions may need additional support throughout the event. Any disability information that you provide in your membership profile (provided that you have given permission to share) will be passed to the organising team and a member of the event welfare team will get in touch to discuss how we can help. Alternatively you can contact us in advance either by emailing the events team directly [email protected], or the BF safeguarding lead ([email protected]). Finally, you can ask speak to a member of the onsite team at check-in. Please note the earlier you raise any additional support needs the better able we are to make reasonable accommodations.
Photography Policy: Anyone wanting to take photographs using any kind of professional or semi-professional camera equipment must apply for accreditation in advance of the event. Accreditation will not be available during competition. This means any kind of camera with a detachable lens, including DSLR, mirrorless and film camera systems, and/or using any kind of tripod or monopod. Photo accreditation is for still photography only – no video recording or video equipment is permitted. Live streaming or broadcasting video in any way, from any device including smartphones, is also not permitted.
All photographers at the event must follow the instructions of the BF media representative, the Event Director, and the referees.
Please email: [email protected]British Fencing reserves the right to refuse or withdraw photographic accreditation at any time without giving a reason.