Leadership & Relationship Models
Leadership is a critical aspect of a successful Olympic fencer.  Why?  World Class fencing is a long-term dual career option and once fencers reach the top ten in the World, they can stay there into their 30s and beyond.
For athletes to be successful and resilient over multiple Olympic cycles they need to develop the management and leadership skills that help them get the best out of themselves and those around them in order to achieve their goals.
Successful Olympic athletes will also be role models and leaders for the next generation.
In a similar way to top tennis players, top fencers will need to be surrounded by a team of experts who support them to be at their best.  But unlike tennis, an athlete does not earn money from winning fencing tournaments so most successful fencers need to combine fencing with other professional activities. Managing career progression and relationships between those that make up the support team is therefore vital.
BF's Athlete Development Programme uses two models, the first, based on Jim Collins' work In "Good to Great" looks specifically at the athlete themselves, and describes a journey that they might take In their personal development as leaders. The second, which is based on the academic work of Stambulova, Henriksen and Kaya Roessler focuses on the key relationships In an athlete's life, and how those relationships change over the course of an athlete's life.
Level 5 Leadership
Jim Collins's Classification of Leadership sets out the characteristics and traits of leadership. Based on extensive research the resulting model captures what differentiates between 'good' and 'great'. As developing leaders move through the model they acquire and build on the competencies of the previous level. This classification of leadership has been mapped to the Pathway Stages and expected development incorporated into the 'athlete behaviour' Pathway Component.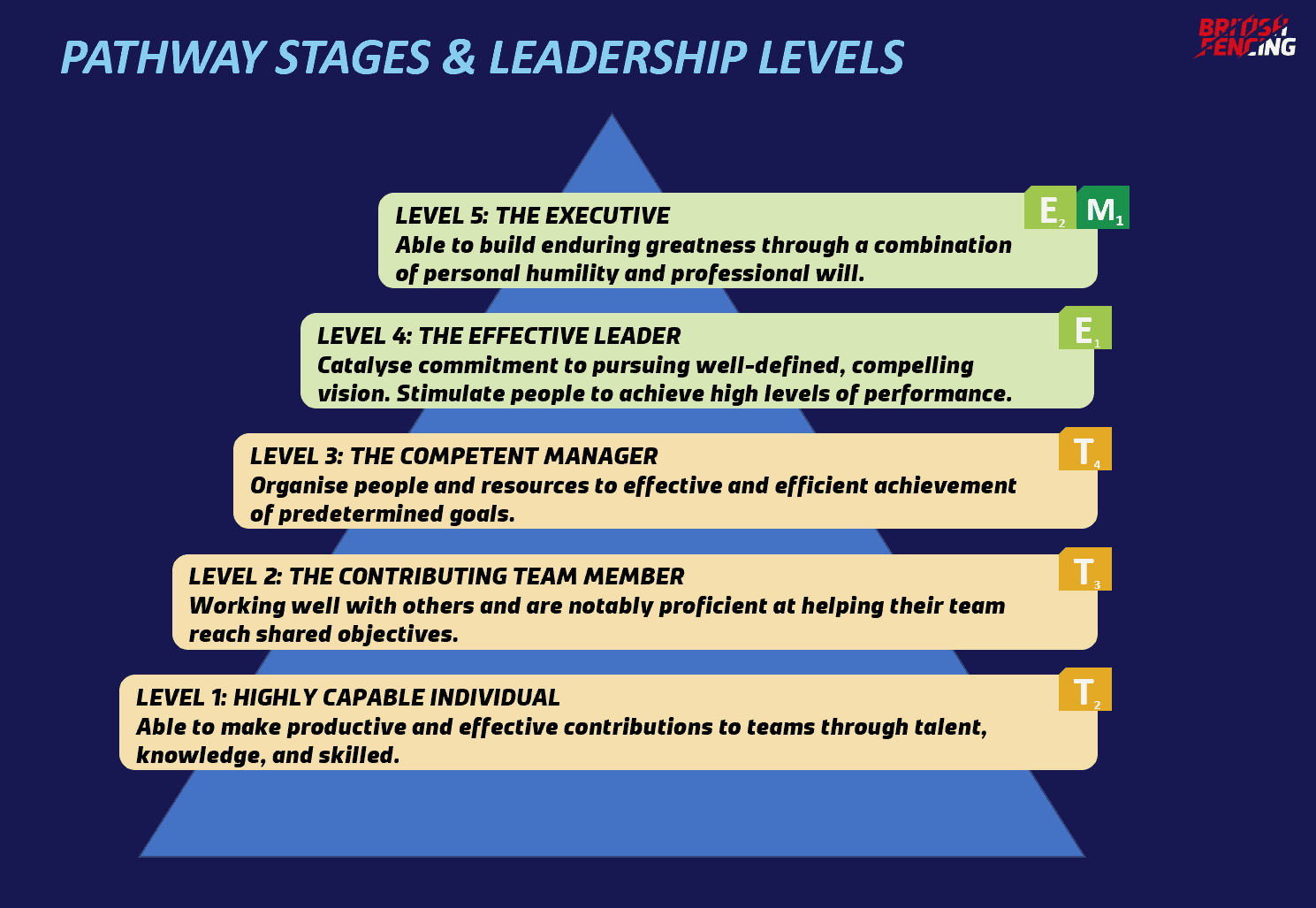 Recommended reading: From Good to Great, Jim Collins
Student to CEO
The Student to CEO leadership relationship model describes the progression of relationships between athletes and other individuals (or groups of individuals) that make up their support team.  Managing relationships is one of the most important differentials for long term success, not just in sport.  Yet athletes are often themselves 'over-managed' – by parents, coaches, federations – which will prevent them from developing the skills they will need to be truly successful.
As an athlete grows in maturity and experience, they move from being managed to managing themselves and others. In order for these relationships to be successful, it is important that all of the key individuals in an athlete's support team are able to plan for, recognise and adapt to their changing roles. The model below breaks the shift down into four stages, describing how these shifting relationships might look.
Movement through these phases do not necessarily map 1:1 to Pathway Stages as they will be highly dependent on age and emotional intelligence of athlete.
1. The Student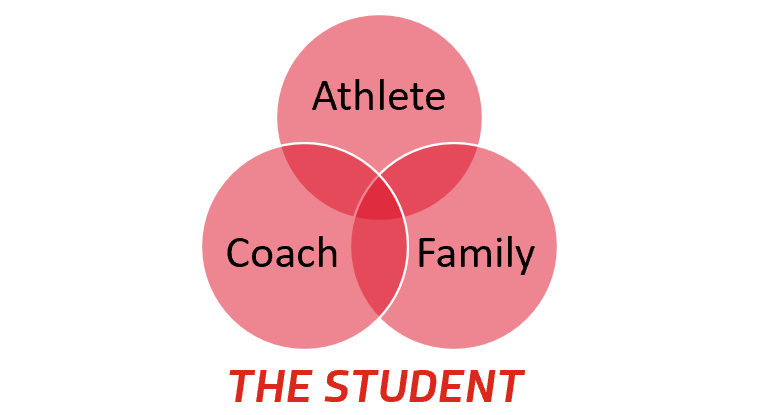 When starting the journey as an athlete, the family and the coach are typically the major influence and make the majority of decisions with regards to fencing.  The athlete is told when to go to training, what they are learning and what competitions to do.
Athletes are expected to have already moved past this stage by the time they have joined the ADP.
2. The Apprentice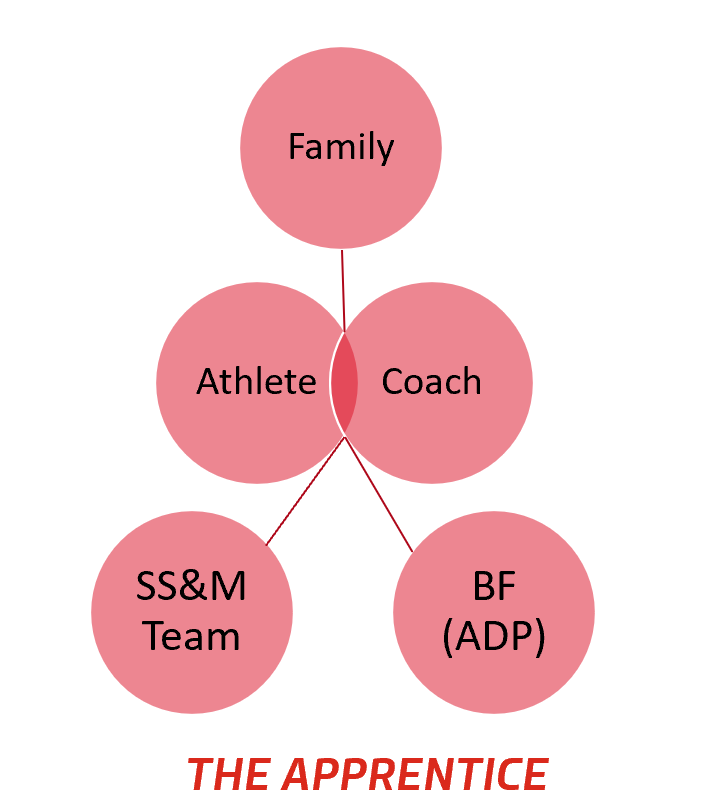 At this stage there is a commitment to performance improvement and additional relationships need to be established and managed. Existing relationships develop as the athlete and their coach become more of a partnership, with the family moving into a more supportive role. As training and international competition increases, athletes learn to take responsibility and accountability for creating and managing their performance plan, supported by their coach.
This is the point where many athletes join the ADP for the first time.
3. The Entrepreneur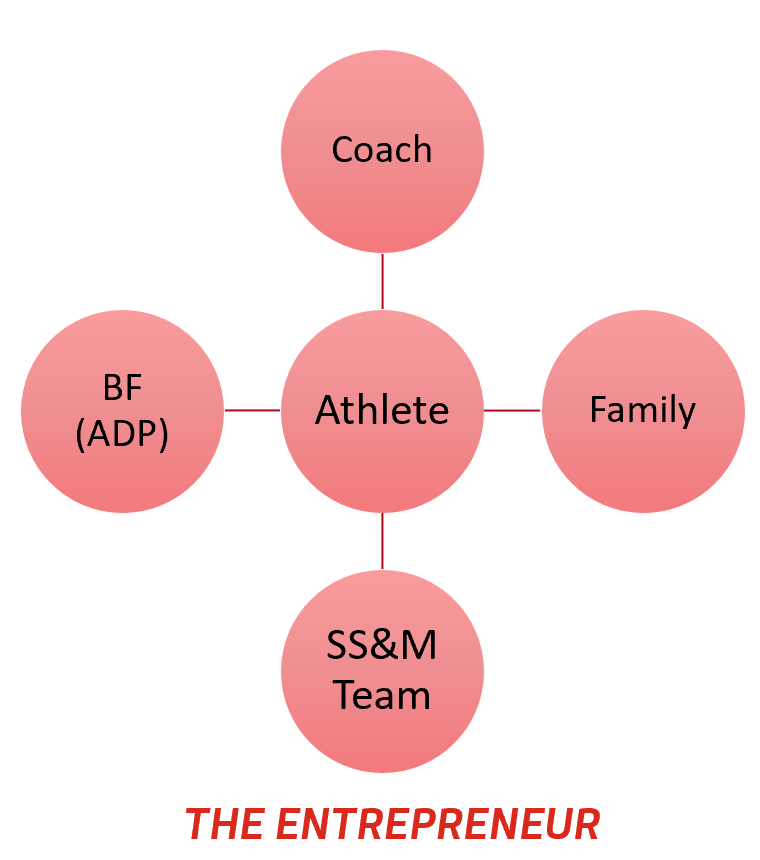 This is a key stage in an athlete's career, likely to coincide with moving away from home or going to university.  The coach has now moved into a supportive role, as the athlete becomes the driving force in managing their own programme.  This might also be a time when the athlete changes coaches or moves clubs.  It is likely that the athlete will be competing in their final Junior years or looking to make the transition from Junior to Senior level.
This stage is where the athlete learns to build and manage a team and identifying who and what they need around them for future success.  It is important that the athlete is clear about what they need and can articulate that to members of their team.
Like a 'real life' entrepreneur, the athlete will not always make the best decisions but being given the opportunity to make mistakes and learn from them quickly will be an important part of their development journey.
4. The CEO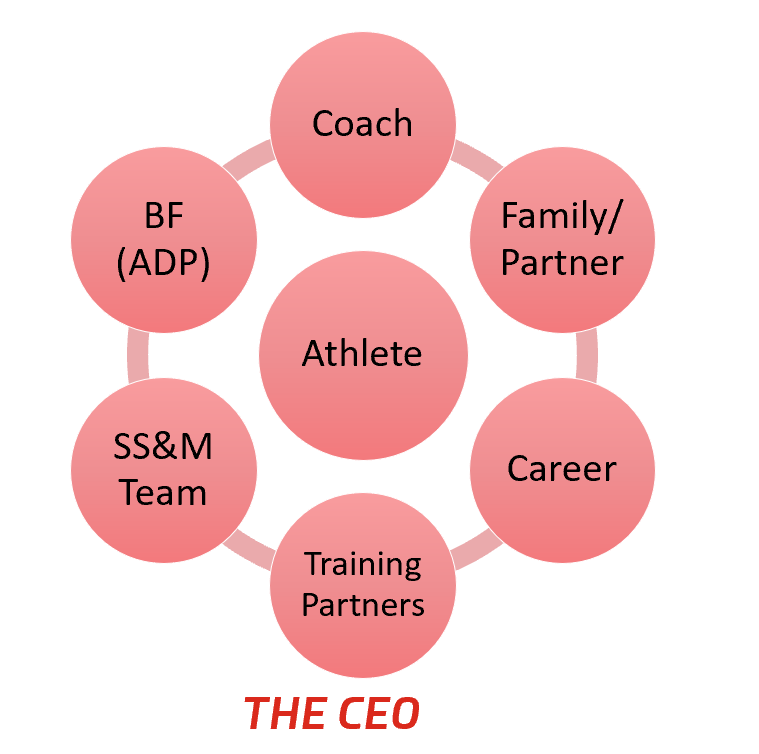 The experiences in the entrepreneur stage have taught the athlete how to successfully manage a team and understand what they need around them to support their performance goals.  The athlete now has leadership responsibility for this high performing, inter-linked team. They provide overall vision and direction whilst allowing independent relationships to develop between team members and engendering trust to deliver.
Everyone is clear about the overarching goals, what their role is in helping achieve these goals and how they work with the wider team.
Recommended Reading:
Holistic approach to athletic talent development environments: A successful sailing milieu Kristoffer Henriksen, Natalia Stambulova, Kirsten Kaya Roessler
A holistic ecological approach to sport and study: The case of an athlete friendly university in Denmark Kristoffer Henriksen, Louise Kamuk Storm, Andreas Kuettel, Lukas Linnér, Natalia Stambulova
The Influence of the Family in the Development of Talent in Sport Jean Côté
Return to the Pathway Zone to find out more about the Athlete Development Pathway.
Return to 'The ADP Zone' to find out more information about the work that we do.