The FTEM Framework
Developed by the Australian Institute of Sport, FTEM is a fully integrated evidence based framework representing the major phases of Foundation, Talent, Elite and Mastery of the whole sport pathway continuum.
It categorises key features of each stage of an athlete's journey and provides a practical method to assist sport and athlete stakeholders to maximise and manage athlete development.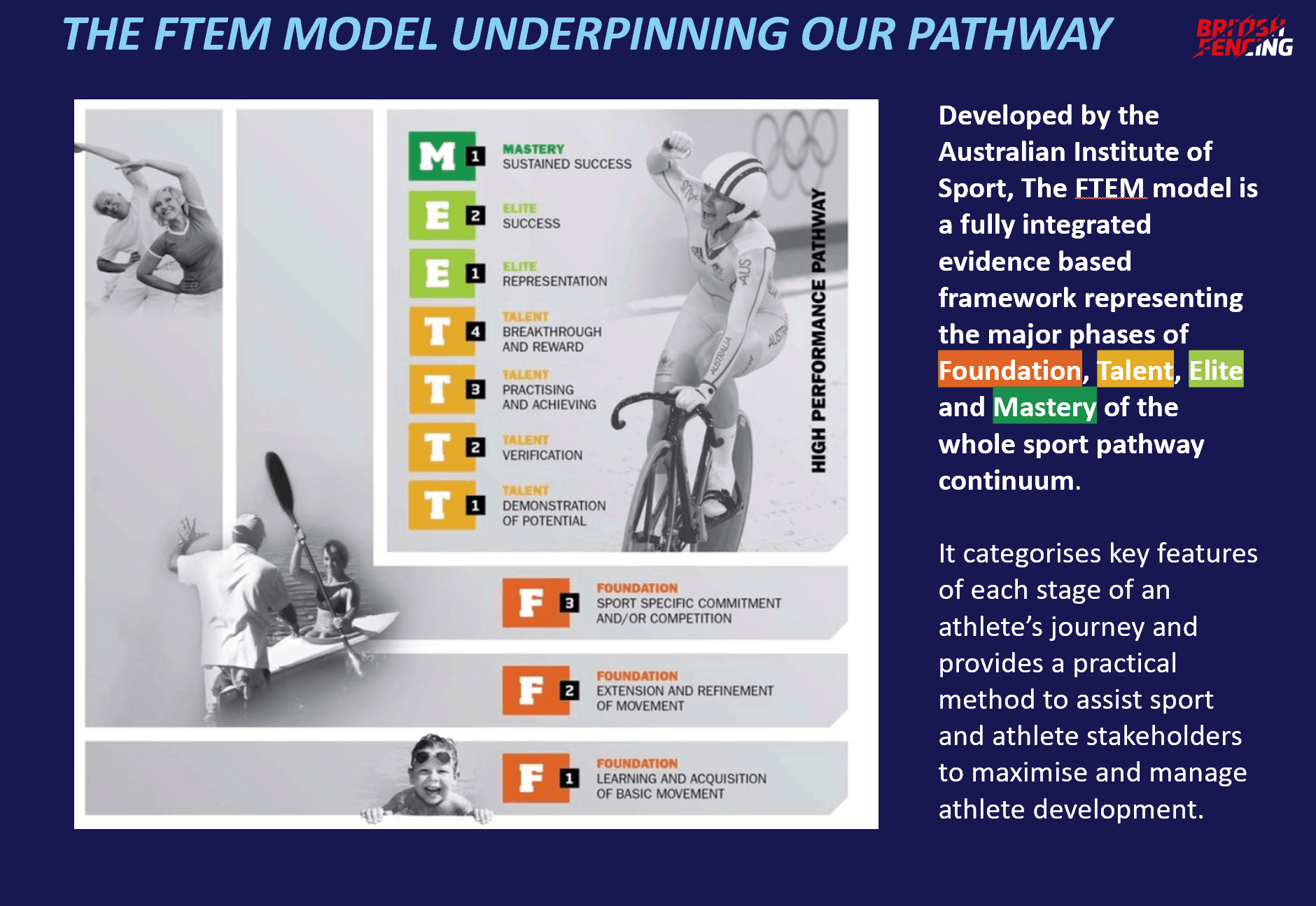 Why have we used FTEM as a framework for our Pathway?
For those involved in talent programmes, sporting excellence is the ambition. For the majority involved in talent programmes, it is the defining place where the ambition is never realised. 96% of participants across sport do not 'graduate' from talent programmes. Often these athletes are lost to the sport when lifestyle and performance mean that they are unable to maintain a constant upward trajectory. In fencing we cannot afford this 'kick-out' model of athlete development particularly as it takes so many years (8-12 years minimum) to develop as an elite fencer. Therefore we have chosen to use a framework that provides a more flexible and inclusive alternative for developing pathways through fencing, allowing for linear and non linear progression, athletes to develop at different rates, unconstrained by age
What are the benefits of FTEM?
Integrates general and specialised phases of development for participants within the active lifestyle, sport participation and sport excellence pathways – thus improving knowledge, alignment and retention within the whole sport system
Provides increased number (10) of developmental phases in order to better understand athlete transition – enabling us to better identify and deliver the right support at the right time
Avoids chronological and training prescriptions – can therefore be adapted to the needs of fencing
More optimally establishes a continuum between participation and elite – making the transition more accessible for more people, and even allowing athletes to move back and forth between performance and participation.
Allows full inclusion of many developmental support drivers at the sport and system levels – supporting our desire for a holistic approach to athlete developmentUsing FTEM as the basis, it is possible for us to categorise key features of a fencer within each of these pathways, and therefore manage the expectations of fencers throughout their fencing journey.
Use of this framework results in an enhanced understanding of fencer pathways will help us to improve the experiences of more participants, at more levels of the pathway, more often. This will help us retain more fencers, building the pipeline and ultimately deliver better performances.
Return to the Pathway Zone to find out more about the Athlete Development Pathway.
Return to 'The ADP Zone' to find out more information about the work that we do.