CHRIS PORTER: COACHING FROM THE CORNER
BF is delighted to announce that Chris Porter will join BF Learning Week 2022 as a keynote speaker on Tuesday, August 23rd. Join Chris for his 4pm live webinar session, Coaching from the Corner.
Coaching from the Corner
Tuesday, August 23rd 2022, 4-6pm
Venue: Online webinar. The session will be recorded and registered attendees will receive the recording. Please register by clicking the blue button below.
Host: Dusty Miller, BF Head of People and Culture
Guest speaker: Chris Porter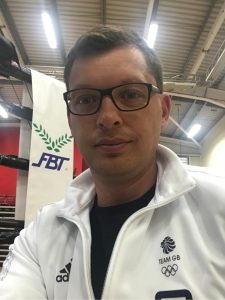 About the Session
Chris's session will focus on three aspects: coaching from the corner, who is in your coaching corner, and developing your own coaching trademarks. The session will be split into two sections. During the first section, Chris will share some thoughts, reflections, and pose a question to consider. Participants will gather within small groups to reflect and share some initial thoughts. There will be an open invitation to contact Chris after the session for any coach who wishes to explore the three topics further.
Invitation to:
This online seminar aims to support those in roles of coaches and to help to understand the key aspects of their work (see below). The session is also suitable for athletes and anyone who is interested in a discussion on coaching from the corner or developing their own coaching trademarks.
Seminar Aims:
Explore the concept of coaching from the corner, including who is in your coaching corner.
Develop your own coaching trademarks.
Through group participation tasks, develop and reflect upon new ideas generated in the seminar.
About Chris Porter
Chris is currently the Elite Coach Development Manager for GB Boxing. Originally from the world of Cricket working within 1st Class Cricket and working across the globe as a development manager with the International Cricket Council, Chris has a range of experiences around player and coach development. Since leaving Cricket, Chris has worked with GB Boxing and has supported and developed their World Class Programme Coaches from London, Rio and Tokyo. Chris is currently on secondment with England Boxing, leading their workforce development plan.
About BF Learning Week
#BFLearningWeek 2022 will explore many aspects of our exciting sport, with experts in coaching, sports psychology and performance joining guest speakers and the BF team to give insight into our fencing world and its future.
The week takes place between 22nd and 29th August with a series of online events.
FAQs and a full timetable, updated regularly, can be found here.