CROWN HILLS FENCING BROADCAST BY BBC
BBC Leicester recently filmed a fencing session taught by BF partner Crown Hills Community College, giving an insight into what fencing at school is like.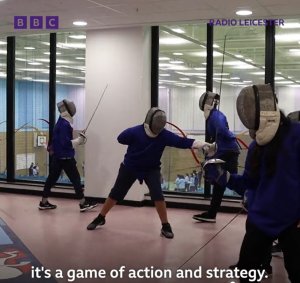 Crown Hills Community College is a specialist sports college with over 1200 pupils and 200 staff members. Crown Hills is engaged in a five-year partnership with BF as an 'Official Training Partner', allowing pupils to experience a sport not normally taught in schools. One of their fencing sessions was recently filmed and broadcast by BBC Leicester.
Rachael Barnett from Crown Hills:
As a school we are lucky enough to be partnered with British Fencing. As part of this we are able to offer our staff and students fencing delivery. This half term we were lucky enough to collaborate with the BBC, whose interest was sparked when they heard about our fencing programme. The BBC came into school to capture one of the weekly training sessions in which our students partake with a specialist coach. They interviewed our Head of PE and two of our Sports Academy students, who gave a real insight into what fencing as a sport is like.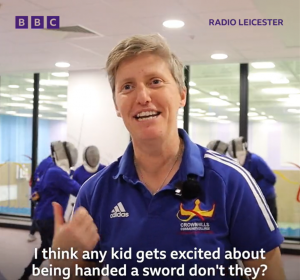 "Fencing was new to me when I joined Crown Hills. I have learned that it is a game of action and strategy" said Yusuf, Year 8.
"I thought fencing would be a onetime sport that I try in PE, but I liked it, and thought I'm going to continue with this" said Salma, Year 9.
They were particularly impressed with all our work surrounding fencing and couldn't believe this was something we offered as a state school.
"Fencing is something you would see as part of our curriculum as all of our Year 7 and 8's study fencing". "Those who really enjoy our lessons can come along to after school clubs and then can progress to extra coaching".
It is fantastic to get this recognition after work hard over the past few years to cement our fencing programme.
Want to introduce fencing to your school or activity provider? Visit We Are Forging Futures to learn more about the programmes that we offer in the educational sector.
Don't miss the latest news. Subscribe to our weekly summary email, The Fencing Digest, featuring the previous week's latest news and announcements. Sign up here.