DEAN CLARK: COACHING FOR PERFORMANCE
BF is delighted to announce that Dean Clark will join BF Learning Week 2022 as a keynote speaker on Thursday, August 25th. Join Dean for his 7.15pm live webinar session, Coaching Conversation: Coaching for Performance.
Coaching Conversation: Coaching for Performance.
Thursday, August 25th 2022, 7.15-8.15pm
Venue: Online webinar. The session will be recorded and registered attendees will receive the recording. Please register by clicking the blue button below.
Host: Dusty Miller, BF Head of People and Culture
Guest speaker: Dean Clark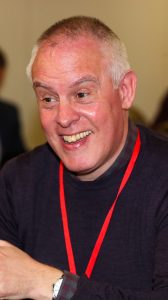 About the Session
Sport coaching may be said to have passed through two 'eras' and may be about to enter a third – the first 'era' saw the trainer with a command of 'science' developing programmes for a largely unquestioning athlete, the second 'era' saw a more collaborative effort connecting performer and coach in an increasingly 'social' space. Perhaps we can now frame a third 'era' where the coach learns 'in front of' their athletes, modelling the attitudes and behaviours they are philosophically invested in and so developing a deeper understanding of 'self' in order to 'serve' others.
At the heart of this thought is the concept of 'coach as performer' – both considering their personal skills, capacity and wellbeing as an athlete might, but also how to best project their influence into the world with a 'performance' that is powerful, authentic and attuned to the needs of the athlete and the moment they and the athlete are sharing. Our conversation will explore this idea and aim to demonstrate how similarly doing so with models from coach-like professions who share our skills base and challenges can add valuable insights to our coaching craft.
Invitation to:
This online seminar aims to support those in roles of coaches and to help to understand the key aspects of their work (see below). The session is also suitable for athletes and anyone who is interested in a discussion on the application of performance in coaching.
Seminar Aims:
Discuss and understand the concept of 'coaching as performer'.
Apply models from coach-like professions who share our skills base and can add valuable insights to our coaching craft.
Explore how coaches can best prepare to support their athletes through the concepts learnt during the session.
About Dean Clark
Dean is a Senior Lecturer in Sport Coaching at Hartpury University where he is Programme Leader for the Master's degree in Professional Development. Dean's work focuses on using partnership approaches to develop events and pathways alongside national governing bodies, providing long-term mentorship for individual practitioners or facilitating seminars.
He has been lead convener for the UKCC national coaching conference on three occasions and currently consults with a range of NGBs. These projects have seen him work alongside the Rugby Football Union to develop a Postgraduate Diploma for coaches holding the performance coaching qualification and more recently the UK Sport Coach Leader programme developing Head Coaches for the Paris 2024 Olympic Games.
About BF Learning Week
#BFLearningWeek 2022 will explore many aspects of our exciting sport, with experts in coaching, sports psychology and performance joining guest speakers and the BF team to give insight into our fencing world and its future.
The week takes place between 22nd and 29th August with a series of online events.
FAQs and a full timetable, updated regularly, can be found here.