Leadership in Fencing – Club Pilot 
In January 2019, British Fencing and England Fencing are piloting a club specific version of the 'Leadership in Fencing' course, in partnership with Radcliffe Sword Club and the East Midlands Region.
Developed in 2017, the aim of the course is to provide young people with the opportunity to develop their leadership skills, using fencing to enable them to lead and facilitate fun activities in the community or at the club, with the support of a club official, whether a coach, welfare officer sectary or volunteer. Young leaders will increase self-awareness, as well as connections, confidence, competence, and character through taking part.  By the end of the course, young leaders will;
Be aware of their leadership skills and abilities
Be able to continually develop their leadership skills using fencing-based activities
Be able to raise the profile of fencing within a young leadership role at their organisation
Be able to inspire others to become actively involved with fencing
The course will be delivered by Rob Bruinges, an experienced Coach Developer, who has delivered the course to a number of Scout groups over the last 18 months. The course is split into 3 areas; Leadership, Learn to Fence, and Action Planning. The course will cover safety, the skills of fencing, participation in a number of fun games, explore the qualities of a good leader, self-reflection and develop a plan to deliver a fencing activity, which they will undertake with support from the Club after the course. This plan should include areas such as refereeing, administration, team management, and event organisation.
Club officials are invited alongside their young leaders to gain an understanding of the areas covered, as well as to think about how they can best support their young leaders back in the club environment. This could be through leading warm-ups, planning and delivering fun games for younger fencers, help setting up the venue, running inter-club competitions or supporting the administration of the club.
Jenna Griffiths, Lead Coach at Radcliffe Sword Club, has said; 
"We wanted to offer younger members of both ours and other local clubs the chance to develop skills which they will be able to take away and use in the future. It's not just about developing them as fencers but helping them grow as people too. Running this course will also enable other coaches to support their young leaders within their own clubs, further developing their athletes and themselves at the same time."
Josef Thomas, Development Officer – Clubs and Regions (England), has said;
"This course is a great way for younger fencers to start learning the skills to support the club now and in the future. Succession planning for clubs is important for their long-term sustainability. By allowing young leaders the chance to understand the qualities of a good leader and develop their skills to create plans, put them into practice and self-reflect will only help the club in coaching, refereeing, organisation, administration and so much more. We are looking forward to working with Radcliffe and Region to pilot this course in a club setting".
Radcliffe Sword Club and the East Midlands Region have invited local clubs and coaches to attend the course on January 26th with a number of their young leaders to take part. If you are based in the East Midlands and know of any young leaders or coaches that would like to be involved, please contact Jenna, Lead Coach at Radcliffe Sword Club at [email protected]
If your club is interested in running a Leadership in Fencing course, please contact Josef Thomas on, [email protected]
All the details on dates and location can be found on the below flyer…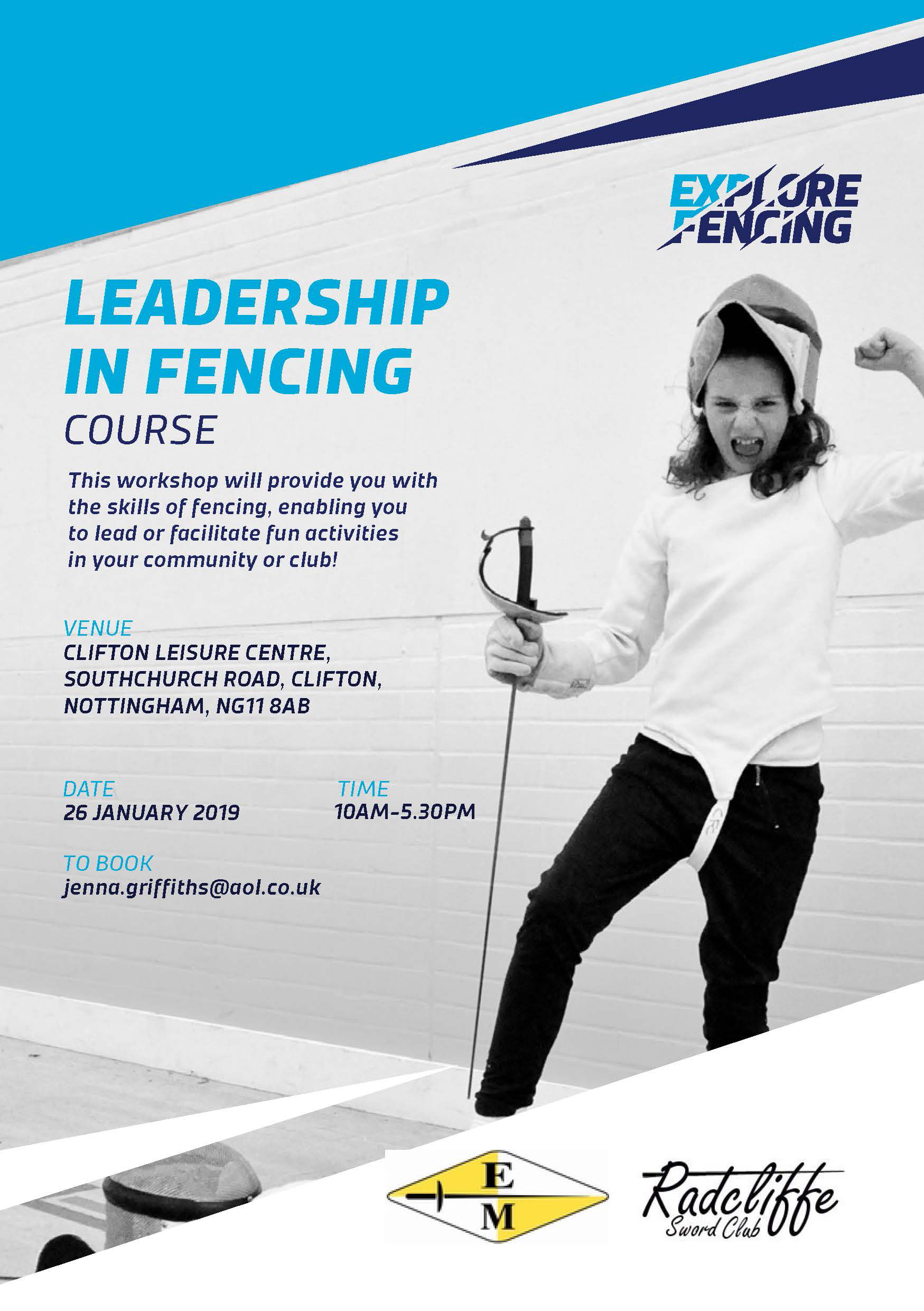 Photo credit – Ira Siobhan