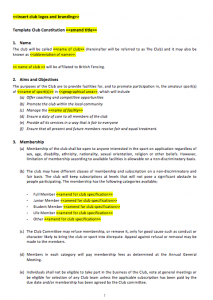 Updated 05.03.2023
The club constitution outlines your clubs functions, sets out the purpose and rules of your sports club. It is the basic document which helps to ensure smooth and proper running of your affairs. Typically, the constitution will set out:
› The objectives for your club (e.g. what you want to do or provide for your members)
› The different forms of membership (e.g. adult, junior, social)
› The rules by which your club will operate.
› How the affairs of the club are to be managed (e.g. by officers and a committee).
› How the members control the club, usually through an annual general meeting.
› A dissolution clause should the club close.
We have created a template constitution for clubs to edit to suit their requirements. There is also this Club Matters constitution guide to walk you through it.
Please note this should only be used as guidance and Clubs may wish to add additional pieces of information.