Funding can be a bit of taboo subject at clubs, whether it's the fear of the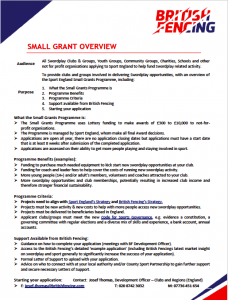 unknown or the thought of unattainable due to time commitments or the pressure to meet the obligations set by the funding organisation. In May 2018, we wrote an article in the Club Digest that looked to calm those nerves and provide information about the support we, as BF, can provide and you'll hear from a club, that has just been awarded £9,500, on just how easy it can be. As long as the club have drive and passion to make it happen, it is achievable.
You can read that full article here.
Support BF can provide
We understand clubs apprehension about submitting a funding bid, adding that pressure on top of running a club is a challenge. Our solution? Create a funding guide that breaks down every element of Sport England's Small Grant stream to provide;
1. Suggested wording to include for each question.
2. How best to frame your answers to ensure your bid is a strong contender
3. Our insight into the types of people that fence
Information on this guide was shared in the July 2017 Club Digest as we were looking for clubs to trial the guide with our support. You can find the link to that Club Digest article here.
This free guide is readily available to all registered clubs that wish to work with us to submit a Small Grants bid of £300 to £10,000 to provide fencing sessions to a new audience. We can help you review your objectives, proofread any bids to make recommendations and write letters of support! All we ask for is to be kept up to date with the progress and to hear about the result! Please see our Small Grant Overview.
Contact us if you wish to gain access to this useful document!
Other Funding Sources
There are a number of free and paid sources to find funding, these include:
London Sport Funding Portal
Sport England
Club Matters Funding Ideas
Funding Central (paid service)