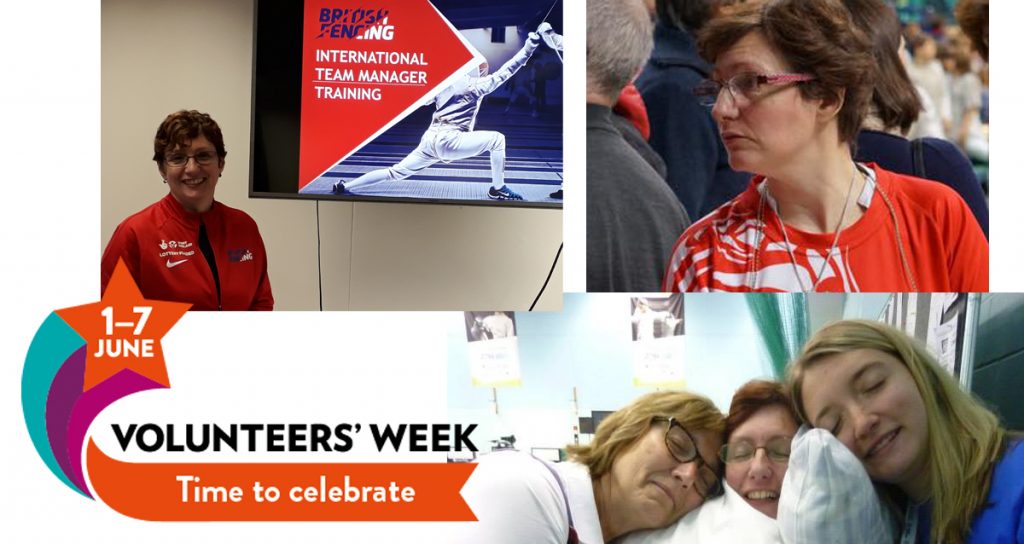 Meet Lorraine, a volunteer who shares her story as part of #VolunteersWeek 2019
My journey in volunteering started in a corridor next to my biology lab at Edinburgh University where I saw two colleagues "fencing" with plastic pipettes (don't tell Health and Safety!), fencing was a sport I'd always fancied but had never tried and here in front of me was a colleague who really looked like he knew what he was doing. I jumped in with both feet and two weeks later I was at Edinburgh Fencing Club getting my first lesson.
It was AWESOME, I loved it – I was rubbish but I was also completely hooked.
I quickly realised I was super competitive and that although my brain knew what it wanted to do my 29year old body was slightly less willing and able. So I then sauntered into volunteering by helping out at the junior class at Dunfermline Fencing Club. I enjoyed it – I really enjoyed it, little did I realise the impact that would have on my life.
I decided to do a coaching course so I could be more help in at the club and thanks to Scottish Fencing and Sport Scotland I got to work with some of the best coaches in Scotland and also with two brilliant coach educators from Hungary, Peter Frolich and Gabor Bognar.
Fast forward a few years and I had helped set up a new fencing club, WFFC and was dual coaching Natasha (Tash) Thomson with my husband Ken (remember the fencing colleague from the corridor? Yep, that's the one). Tash was pretty good and made the GB U17 squad so I took my first forays into International Fencing with GB thanks to her.
I was then asked to volunteer as the Welfare Officer on International trips, I was sent on courses by BF and had some great mentors from within the sport. It was a bit scary – having responsibility for other people's children and athlete's but I had the knowledge that there was a great support network with BF,SF, EF and my own club to help me gain the skills and experience necessary for the role.
I continued to coach at home and our club became a SCIO, we bought an old primary school to have our own home.
Within British Fencing volunteering was on it's own journey as the NGB started to provide more training and support for their volunteers; Welfare Officers morphed into Team Managers then Performance Team Managers and we then created the mentoring role of Lead Performance Team Managers. I have been privileged to have been involved in helping to shape this journey and to give my input into British Fencings bespoke Team Manager training workshops. Workshops that I now deliver as I am passionate about succession planning and allowing others to gain experiences and have opportunities to volunteer too.
Fencing has sent me all over the world, I have walked more than my recommended daily step count in fencing halls all over the world from the youth events such as the Paris Marathon to the Junior and Cadet Commonwealths in Cape Town to European Championships in Sochi (I've also had less glamorous gigs closer to home) and along the way I have worked with some really inspirational athletes, governing body staff and volunteers and been privileged to share their journeys.
I have been incredibly lucky – I have worked with British Fencing, British Disability Fencing, England Fencing and Scottish Fencing, sportscotland and have done various volunteer roles Coach, Trustee, Welfare Officer, Team Manager, Performance team Manager, Lead Performance Team Manager, Chef de Mission and Educator.
In pictures my journey looks a bit like this:
I have made lifelong friends and gained experiences and skills that I never would have had otherwise. The people within the sport have impacted my life hugely and I have wonderful memories best of all I have laughed, I have laughed till tears have run down my face and my sides have hurt more than a core workout so I highly recommend taking that first step into the wonderful world of the volunteer who knows where your journey could take you.