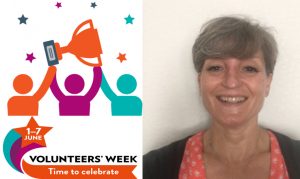 Meet Maxine, a volunteer who shares her story as part of #VolunteersWeek 2019
My Journey into Volunteering for British Fencing
Not eating, not drinking and spending the day full of nervous energy – that was me, as a parent, standing at the side of the piste during competitions. I needed to find a coping mechanism and quickly, otherwise I was sure the impact on the fencer would be detrimental.  Speaking with the Coach one evening, I asked how I could possibly assist BF and keep myself busy at competitions. He suggested I become a referee.
The seed was sown and in February 2014 I enrolled on an Epee referee course. In May of that year, at the BYC, I qualified at Level 2.  Since then my journey as a referee has been exciting and taken me all over the country as well as Challenge Wratislavia 2019.  I thoroughly enjoy refereeing and, more importantly, it has allowed me to get to know the fencers, coaches and parents alike on a more personal basis, a most rewarding aspect indeed although it can of course, be testing at times!
Knowing that I was making a difference encouraged me to investigate other areas of BF/EF where I thought I could help and when the offer to be England Team Manager for the Commonwealth Championships in 2018 arose, I could not turn it down.  I have also been lucky enough to be Team Manager for England at Y5N 2018 and I am also Team Manager for England Y5N 2019.  The next step was to apply as PTM for Internationals and my first event with the GBR Junior Sabre teams in Poland 2018 proved that I had taken the right step.
My latest venture is ensuring that the ENG Sabre U14 & U17 Rankings are up to date – I never thought I would be doing that. Volunteering with BF/EF is one of the most enjoyable roles that I have ever had – the community spirit, camaraderie and sheer enjoyment from each and every event, in whatever role I am asked to fulfil, is reward in itself and I will continue to support BF/EF for as long as I am able.   So, come on ladies and gentlemen, take that leap and become a volunteer!