Spotlight on… Helen Solly #greatcoaching
As part of Coaching and Volunteer's week, we spoke with Helen Solly who has been involved in the sport for a number of years now. Helen has a wealth of experience and enthusiasm working in education, with a specialism and passion for working with young people with special educational needs. As well as being a fencer and coach, another feather to Helen's cap is her role as a BF Coach Developer and she has been a key influencer and advisor in the success of Muslim Girls Fence.
Why did you decide to become a fencing coach?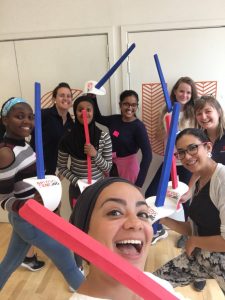 I used to fence competitively and found that I was inspired and motivated by my coaches. I wanted to give something back to fencing and had really enjoyed my experience of the sport and my club and wanted to volunteer my time to help out.
What are the best things about being a fencing coach?
It's great to be able to support people and see them develop, not just their skills as a fencer, but socially and emotionally as well. I gain a huge amount from seeing fencers grow as people, it's definitely not all about the fencing for me! A good example of that is Nawal, a young lady in Doncaster involved with Muslim Girls Fence. Seeing her journey through the sport has been brilliant and watching her develop has been something I am really proud to be part of.
What advice would you give others looking to volunteer and get into coaching?
I would say to them to drive forward with your dream and don't let anyone stop you!