THE SWORD JANUARY 2023 HIGHLIGHTS: HELEN SMITH
From the latest edition of The Sword, Helen Smith gives us an insight into her sporting life and her plans during her final two years as part of the FIE before Paris 2024.
Helen Smith is the former President of the Commonwealth Fencing Federation, as well as an Australian Olympic fencer. She became Australia's first female Fencing Master in all three weapons in 1992, and in 2002 she was elected President of the Commonwealth Fencing Federation, President of the Oceanic Fencing Confederation and became an FIE Executive Committee member.
Read the full article about Helen in the latest issue of The Sword:
Interactive Edition  PDF Edition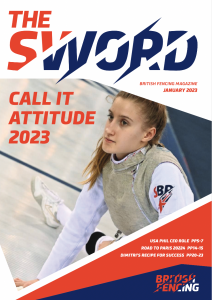 Don't miss the latest news. Subscribe to our weekly summary email, The Fencing Digest, featuring the previous week's latest news and announcements. Sign up here.