THE SWORD – OCTOBER 2023 EDITION
The October 2023 edition of The Sword is published, as work continues on a new online platform, launching in December 2023.
In comparison to five years ago, our members are now consuming our content in very different ways from before, engaging more with website news posts and articles. (For example some of our best performing news posts, such as this one, actually had more readers than any recent online issue of The Sword.) Our Friday news round-up is also proving popular with members who want to keep up-to-date with what is happening in the world of fencing (Sign up here).
With the general shift to people reading things online in bite-size chunks, along with reduced member engagement with the published Interactive and PDF edition, we have been exploring alternative options for The Sword in the future to deliver a better service to our members in light of rising costs.
In order that we can concentrate our limited resources on publishing timely features and articles and up-to-date information, the number of formal (magazine format) issues of The Sword will come down to two a year. A print-on-demand service will allow members to order hard copies of these issues.
The intention is that one issue, in October/November, will be the season round-up including reports from the major international events (European & World Championships from U17 to Veterans) plus updates on the GBR pathway activities.  The other issue in April will cover the other areas of BF activity including community projects, workforce development, club support and social impact projects.
The Sword will move to a new members only online home, giving us the opportunity to publish articles and content between the formal issues. This will be available at thesword.britishfencing.com by 1st December 2023. We will continue to bring our members great long-form content, plus a few new things that will look a little different.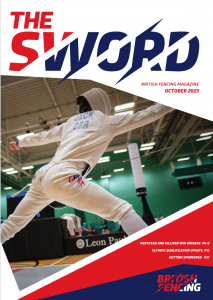 Interactive Edition / PDF Edition
Hi-res pictures from the Cadet & Junior Nationals are available here: Cadet & Junior Nationals 2023
Hi-res pictures from the British Open & GB Cup are available here: British Open & GB Cup 2023
---
Don't miss the latest news. Subscribe to our weekly summary email, The Fencing Digest, featuring the previous week's latest news and announcements. Sign up here.