UDINE BRONZE FOR GBR'S JUNIOR WOMEN'S EPEE TEAM
Imogen Bulman, Hanah Lebor, Sophie Peat and Erin Pedler claimed the Women's Team Epee Junior World Cup Bronze medal in Udine, Italy, at the weekend.
Lining up in a field of fifteen, the British team were ranked twelfth for the elimination stages. They took on fifth seeds, Switzerland in the round of 16 and led 12-11 after three legs and 24-23 after six, breaking away in the final three fights to progress 45-38. They faced fourth seeds France in the quarterfinals and despite leading 13-11 after the first third of the match they fell behind 23-20 with three legs remaining. Peat, Bulman and Lebor outscored their French counterparts in those fights to make the semi-finals with a 40-31 victory. Great Britain was no match for top seeds Poland in the top four as the Poles eased to a 45-25 victory.
Hopes of a medal rested on a bronze medal play-off against tenth ranked team Spain who had also been taking out higher seeds during the day. The Spanish team got off to a better start leading 14-13 after three fights but the British team turned it around in the middle of the match to lead 28-24 and held on for their podium placing with a 45-40 victory. Poland defeated Italy in the final.
Speaking after the event, Ian Lichfield, ADP Weapon Lead, said,
"The team can be incredibly proud of their performances. To win a medal at this level, beating teams of the standard of Switzerland and France, demonstrates the hard work invested into the focus on Team matches by the ADP coaches and athletes. The positivity and support from the GBR squad and athlete parents played a critical role in supporting a medal-winning performance. From what our records show, this historical performance is the first-ever Women's Epee Team medal at a Junior World Cup. The result now places the GBR team in the top 10 in the World Junior Rankings."
The two-weapon World Cup also featured Junior Foil events, with Amelie Tsang finishing in the top 16. Jaimie Cook also made the top eight, finishing 6th overall, before having to withdraw from the event.
Thank you also to our partner The Epee Club Charitable Fund for their continuous support of our GBR epeeists.
Full results are available here.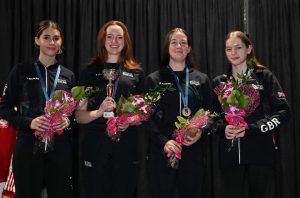 Don't miss the latest news. Subscribe to our weekly summary email, The Fencing Digest, featuring the previous week's latest news and announcements. Sign up here.