2021-22 Annual Report – Athlete Development Programme
This article forms part of a series of reports which accompany the 2021-22 BF Annual Report.      
In this report:
Summary
Tokyo2020
European & World Championships
Camps and other ADP activities
ADP Coach Development
Pathway Development
DiSE (Diploma in Sporting Excellence)
Individual Weapon Overviews
Summary
As a reminder, our Athlete Development Programme (ADP) is a six-weapon programme that exists to support GBR athletes in achieving Olympic success and inspiring others. Founded in the strategic principles of fencer-centred, development-driven, competition-supported, it covers athletes from age 15 to 35 (and beyond for those performing at Olympic level) who are moving through a defined development pathway to success at the highest level of fencing. It is supported by funding from both Sport England ('Talent' funding) and UK Sport (Progression & Podium).  The ADP is not just about the athletes, it is also about creating the system and structure to support the athletes.
Coming into the start of the year, in April 2021, COVID-19 was still significantly impacting fencing activity. There had been no domestic or international competition since March 2020, and no in-person ADP camps since December 2020, although online training had run throughout 2021. It was only in July 2021 where training and competition could take place in a meaningful fashion in England and restrictions still existed across other Home Nations.
The ADP objectives for 2021-22 were:
1. Restart – Re-starting international competition season – requiring levels of adaptability and additional resource to react to continually changing competition dates, competition COVID-19 protocols and the significant amount of additional administration put in place by governments, the FIE and competition organisers.
2. 'World Class Ready' – Start of the system development of an integrated pathway to have the foundations in place by 2024 to meet UK Sports standard of a World Class Pathway system, this development funded by the successful UK Sport Progression bid.
1. Re-starting
It was vital to support a restart and recovery as early as safely and reasonably possible to try to address the impact on GBR athletes of the missed opportunities (both in training and competition). For the majority of our athletes the impact of COVID-19 was two full seasons of missed competitions, which for U17s and U20s could represent missing their entire international U17 and U20 career. We also recognised we had a role to play in supporting the 're-start' of ADP Coaches and volunteers, who in turn support the GBR system and structure.
2. 'World Class Ready'
The UK Sport Progression funding period began in April 2021 with the objective to develop the people, systems and processes to be World Class Ready by 2024.
People & Culture – During Covid, work started with the athletes and coaches on articulating the culture, values, behaviours and expectations on and of all of those involved in the performance pathway. This grew into the 'Call It Attitude' handbook which will be published later in 2022.
System & Process Development was focused on driving efficiencies and improvements within existing operational processes, for example the selection process, referee allocation.  As part of the move towards data-informed decision making, work has continued on the building of athlete profiles, data set and trajectory modelling on international performance data alongside the collation of user research, experience, and personal insights.
Looking ahead to 2022-23, the ADP programme will:
Build on the recovery from COVID-19 and performances to date.
Continue to deliver training camps, domestically and internationally for athletes.
Support the development of coaches and strengthen the athlete pathway to meet the qualification standards for the European Games.
Deliver performances at major events underpinning a long-term ambition of medal success at the 2028 and 2032 Olympic and Paralympic Games.
Start work on building the para fencing pathway and integrating para fencing opportunities into ADP delivery.
ADP coach engagement will increase with athletes and personal coaches to ensure that every athlete has put in place their Individual Athlete Development Plan (IADP) and scheduled regular opportunities to review. Through these reviews, the ADP will be better placed to deliver higher quality individualised support to accelerate athlete development. For those athletes performing to medal-winning standards, their IADP will be reviewed more regularly and supplemented by detailed Performance Plans.
Increasing this level of engagement particularly with the GBR Seniors will be vital in delivering on our ambition to better support their needs as they progress through the pathway to international success.
Tokyo 2020 (2021)
Preparation for the Games was significantly impacted. There were no international competitions between March 2020 and February 2021 and domestic training and competition was severely limited during this time.  The FIE ran the final Olympic qualifiers in March 2021, which resulted in Marcus Mepstead securing a direct qualification slot for Tokyo.
As the financial year started (April 2021) BF was running limited activities under strict government guidance to support training and preparation for athletes competing in the zonal championships in April. BF worked in partnership with Pentathlon GB to share best practice and develop opportunities for joint training events to support athletes from both sports.
Whilst no fencers qualified through the zonal route, we had notable performances in women's epee and men's sabre with Susan Sica and Will Deary both coming 3rd.
COVID-19 had a profound impact on all athletes and their support teams in preparing for and participating in the Games. There were logistical challenges relating to travel and training under a multitude of changing COVID-19 test protocols and travel restrictions.
Whilst the final result (Marcus bowed out to HAMZA (EGY) 15/13 after an intense bout in the table of 32, more info here) was not as anticipated, we would like to thank everyone who helped and supported our journey to the Tokyo Games.
Our focus now is on the challenges presented by a shorter 3-year cycle to qualification for Paris, within the broader medal ambitions of LA 2028 and Brisbane 2032 supported by UK Sport progression funding.
European & World Championships
Note: For the purposes of this report we will include April to July 2022, noting that these fall out the Financial year but from a fencing perspective are considered the last 3 months of the international fencing season.
In April 2021 the U17 & U20 World Championships were held but British Fencing (along with a number of other nations) was unable to participate due to UK government restrictions on travel.
Acknowledging the impact of COVID-19 on time on task in international competition alongside the challenges for athletes in achieving qualification standards, (due to competitions being cancelled and postponed) it was decided to send full squads to the 2021-22 major events where possible.
The next championship opportunity for the U17 & U20s to compete was at the European Championships in February 2022. As Russia invaded Ukraine the GBR Women's Epee Team took the decision to withdraw from their match against Russia as a mark of respect and solidarity to the Ukrainian Fencing Family, despite their medal prospects. Their behaviour and demonstration of the BF values in light of the difficult situation are something the community can be proud of (more information here).
Despite this withdrawal, the 2022 Cadet & Junior Euros and Worlds saw collectively the most successful European and World Championships in the history of British Fencing with a total of 10 medals across the two events in both individual and team events:
European Championships:
Junior Women's Foil Individual – Gold (C Stutchbury)

Junior Men's Epee Individual – Silver (A Brooke)
Cadet Men's Epee Individual – Bronze – (A Brooke)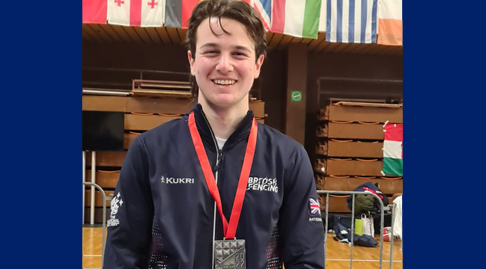 Junior Men's Epee Team – Silver ( J Mitchell , J Jeal, A Brooke, J Walmsley)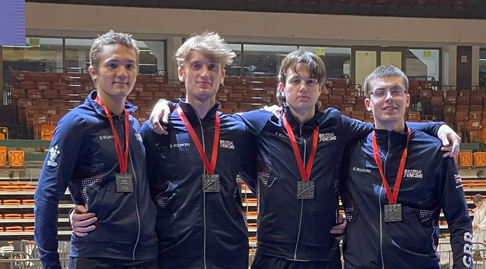 Cadet Men's Foil Individual – Bronze (J Cook)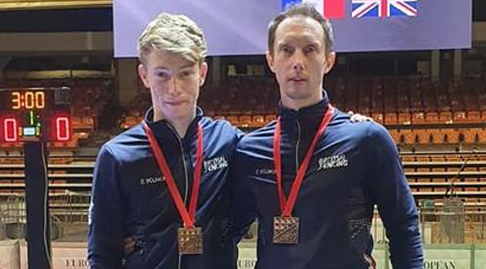 Cadet Women's Foil Team – Bronze (C Stutchbury, I Johnson, A Tsang, M Elliot)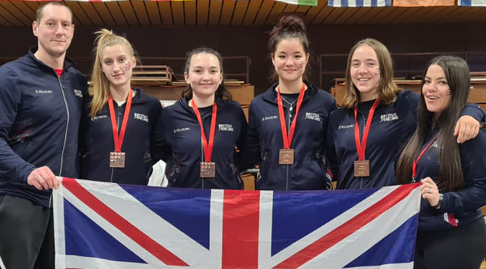 Cadet Men's Foil Team – Silver (J Cook,  D Sosnov, N Ulferts- Kilpatrick, C Penman)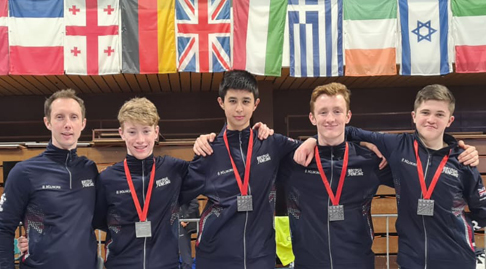 World Championships:
Cadet Women's Foil Individual – Bronze (C Stutchbury)
Junior Women's Foil Individual – Bronze (C Stutchbury)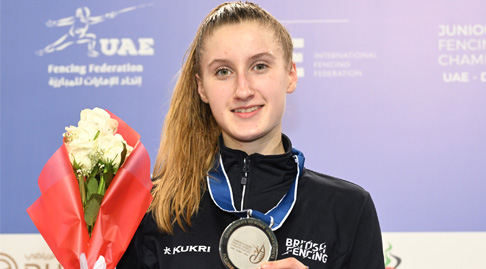 Junior Men's Epee Individual – Bronze (J Jeal)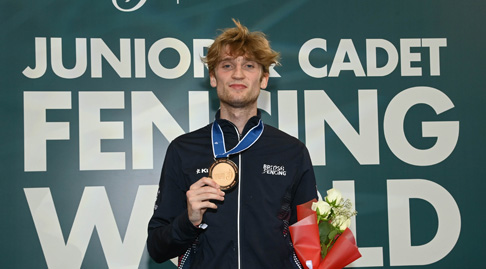 For the first time, BF sent a full six-weapon squad to the 2022 U23 European Championships. This was prioritised as a development opportunity for those who emerged from the U20s during COVID-19 and were unable to gain the competitive experiences to accelerate into the Senior space. Looking forward the intention is to continue to use this event to support the development of athletes as they transition from U20s and Seniors.
Notable results from the Senior European Championships was a top 8 by Carolina Stutchbury (individual women's foil) and JJ Webb returning from injury to make the Last 16 in men's sabre.
Whilst the Senior World Championships did not deliver the performances expected, one noteworthy performance is that of the Women's Foil Team who came 12th with an average age of 20.
Camps & Other ADP Activities
ADP camps have continued to focus on a fencer's competitive resilience, this by using performance simulation/competitive scenarios within Poules, DE and Teams, helping the fencers build on the psychological toolkit from the previous season. In 2021-22 there has been a greater focus on self-reflection and "in the moment" reviews supported by the True Athlete Project (TAP). This will continue into 2022-23.
The first in-person ADP camps restarted in July 2021 with strict COVID-19 protocols still in place at the University of Nottingham. The camp was led by a team of ADP coaches across all weapons and supported by Sam Parfitt of the True Athlete Project plus a team of physios researching movement patterns in fencing.
In October 2021 a second in-person training camp was run in October (with weapons split across multiple sites).
A planned training camp over Christmas 2021 was moved online in response to rising COVID-19 case rates during the festive period. Sessions for all weapons included presentations on the GBR Selection Policy and Rankings.
With over 500 attendees at camps the numbers have returned to pre-pandemic attendance which is a testament to the content delivery and the commitment of the fencers. Moving forward, there will be a need to refine camps to improve the offer for all involved as the programme grows.
Under the Athlete Development Programme Cohort 32 initiative (funded by UK Sport Progression), the ADP identified a small group of Cadet (U17) fencers and delivered additional support with performance planning. These plans were bespoke to the individuals and included detailed competing planning, clarity of goals and improvements in their overall personal programmes.
Creating and maintaining a psychologically safe space remained a high priority for the ADP and work with the True Athlete Project(TAP) continued in embedding the four stages of psychological safety: inclusion, learner, contributor and challenger.  The focus of the TAP team at camps is to support more in depth, 1 to 1 conversations with athletes and working on being the "In the Moment".  This includes work on breathing, emotional state, mindfulness, and dialling up and down, helping athletes recognise focus for the next action.
In Feb 2022, BF launched a new range of Kukri teamwear, including GBR ADP and GBR Championship tracksuits.
ADP Coach Development
In April 2021 Dusty Miller was appointed in the new part-time position of Head of People and Culture. The key remit of this role was the implementation of the High-Performance Coach Strategy (part of the UK Sport Progression Fund application).
In the first year, there has been a test, review and refinement of the Advanced Coach Programme, due to run in 2022-23 with the focus on the ADP Coaches' development.
The Coaching Health Check has been launched to help coaches identify areas of development, and greater understanding of the psychosocial aspects of coaching.
Working with the ADP weapon leads, coaches have continued to explore and refine the notion of fencer-centred, development-driven, competition-supported.
Our work with other organisations such as UK Coaching offered other coach development opportunities. 21 ADP coaches and staff members undertook development opportunities across five organisations, with topics including Women in High Performance, Talent Development, Talent Identification, High Performance Coaching, Psychological Safety, Self-Reflection, Listening Skills, Skill Acquisition, Mentoring, Diversity, and Inclusion.
In total 73 opportunities were taken up on courses:
British Fencing – 26
UK Sport – 8
UK Coaching – 12
Leaders in Sport – 22
Institute for Leaders – 5
These events were a mixture of seminars, communities of practices, conferences and 1 to 1 Zoom calls. Looking forward, the aim is to continue these opportunities and deliver an online BF 'Learning Week' to bring together and share learnings.
Pathway Development
A focus area of pathway development was the creation of the BF Commitment, a statement of intent created by the fencers.
Led by Johnny Davis, work started with a group of Senior athletes who in turn took responsibility for discussing and engaging with GBR fencers. Following this, staff from the English Institute for Sport met the working group, a group of coaches and a group of GBR former Olympic fencers to further extend and bring to life the meaning of the words. This content resulted in the BF Commitment, which is being extended and refined for publication in 2022-23 as 'Call it Attitude'.
Work continued on the framing of the Athlete Curriculum, a series of development, education and training experiences to enhance the athlete experience in the pursuit of future goals and performance.
In 2022-23 this work will progress with:
Weapon Leads driving the implementation of the Weapon Strategy, increasing numbers of athlete support conversations underpinned by athlete maintained Individual Development Plans.
Delivery of the Advanced Coaching Programme to the ADP Coaches.
Building content for the Athlete Curriculum.
DiSE (Diploma in Sporting Excellence)
This year the overall management of the DiSE programme was taken over by Sport England and is part of the England Talent Pathway (see https://www.sportengland.org/funds-and-campaigns/talent). We have completed an application to be part of the programme again in 2022 and are confident we will be allocated a similar number of places to previous years.
We also managed to increase the level of integration of the programme into the overall ADP education programme, so education for DiSE fencers can be shared with all ADP fencers.
42 of the 43 2019 DiSE cohort (started October 2019) successfully completed their course. Of the 34 fencers who started in October 2020, 32 are currently on track to complete in July 2022.
We have three newly qualified assessors who will work alongside our current four assessors:-
Andrew Basford
Nat Lewis
Helen Solly
Weapon Overview – Sabre 
In June 2021, the ADP Sabre Lead Jon Salfield moved on to a full-time position with the newly established Leon Paul Project. He was replaced by Rob Cawdron, who moved from his position of Project Officer into the role of ADP Sabre Lead. In September 2021 James Williams was also brought into the ADP team to support Rob in the development of the weapon.
The July and October 2021 camps were led by ADP coaches Rob Cawdron, Beth Davidson, Curtis Miller, Fran Whalley and James Williams.
In addition, James Williams ran a pre-Cadet and Junior World Championships training camp in March 2022.
The online Christmas 2021 camp was primarily delivered as a series of personal development conversations between ADP coaches and athletes, supplemented by coach development training in mental skills, active listening and the athlete-coach relationship delivered by Dr Jonathan Katz to the ADP coaches.
Alongside the major event results (see above), a number of performances across multiple age groups hinted at a strong return from the pandemic for Britain's sabre fencers. At the Senior Men's Sabre World Cup in Tbilisi, Will Deary finished in the top 16, while in the Cadet age group, Bethany Brierley achieved a last 8 finish at the European Cadet Circuit event in Sofia, and Melissa Jane finished in the last 16 event in Bucharest. At the Cadet European Championships in March 2022, Lexie Craze finished in the top 16.
The focus in sabre for 2022-23 is to ensure that athletes have a consistent coaching structure supporting them
Top European and World Ranked Sabreurs (season 21-22)
EFC Cadet (U17) European – Women's: 30th Bethany Brierley, Men's: 56th Tom Heath
FIE Junior (U20) World – Women's: 63rd Lexie Craze, Men's: 64th Ian Ho
FIE Senior World – Women's: 103rd Caitlin Maxwell, Men's: 35th Will Deary
Weapon Overview – Epee
In April 2021 John Rees stepped back from the ADP Lead role for Epee and Ian Lichfield took on the role. Within the camps, there has been a focus towards on-the-day preparation for competitions, including warm up and activation routines.  Performance competition simulations have included call rooms, competitions run by DT, and dealing with the uncontrollables (using Uno cards!). Linked to this was the use of self-reflection in fight management and use of peer-to-peer coaching in the reflective process.
Alongside the major event success (see above), the athletes delivered a number of notable performances across multiple age groups.
In Cadets (U17) Alec Brooke medalled in individual men's in Belgrade (Gold) and Grenoble (Bronze). The men's team (Brooke, Beautyman, Kew, Perkins) won gold in Belgrade. In the women's, Hannah Lebor made a L16 in Belgrade 
In Juniors, Hannah Lebor made a L16 in Burgos, Julia Caron a L16 in Luxemburg and a L32 in Burgos, In the men's, Alec Brooke made a L16 in Udine and James Jeal a L8 in Winterthur.  In the Senior Women's, Susan Sica a L32 in Budapest and in Senior Men's Alec Brook made a L32 in Paris.
Top European and World Ranked Epeeists (season 21-22)
EFC Cadet (U17) European – Women's: 39th Hannah LeBor, Men's: 1st Alec Brooke
FIE Junior (U20) World – Women's: 28th Julia Caron, Men's: 10th James Jeal
FIE Senior World – Women's: 60th Susan Sica, Men's: 145th Elliot Grover
The focus for Epee in 2022-23 is to build a depth around the squads at each age group.
Weapon Overview – Foil
ADP Foil Lead Chris Galesloot led the delivery of July and October 2021 camps, assisted by Donnie McKenzie, Katie Arup, Richard Kruse, Michal Janda, Glen Golding and Keith Cook.
The content of the online Christmas 2021 camp was aligned with the other weapons. It centred around personal development conversations between ADP coaches and athletes with a specific focus on active listening and developing the mental skills for both athletes and coaches, supported by the True Athlete Project.
Alongside the promising major event results (see above), Marcus Mepstead  finished in the top 8 in Senior World Cup Belgrade and Grand Prix Incheon to finish the season with a World Ranking of 22.
European and World Ranked Foilists (season 21-22)
EFC Cadet (U17) European – Women's: 5th Amelie Tsang, Men's: 6th Jaimie Cook
FIE Junior (U20) World – Women's: 2nd Carolina Stutchbury, Men's: 20th David Sosnov
FIE Senior World – Women's: 46th Carolina Stutchbury, Men's: 21st Marcus Mepstead
The focus for Foil in 2022-23 is to secure qualification slots for Paris 2024 whilst providing appropriate development opportunities for those athletes indicating a trajectory towards achieving qualification for and results in Los Angeles 2028 and Brisbane 2032. These will be identified through athlete conversations and underpinned by athlete managed IADPs.
Thank you
BF would like to thank
Our funding partners (Sport England and UK Sport) and all the organisations that we work with to create and deliver the services of the ADP.  Including the Home Nation Fencing bodies, The True Athlete Project and the EIS.
All the coaches and athlete support personnel who have engaged in the programme and support the athletes in their pathway journeys.
Our small but hard-working team of volunteers including team managers, welfare officers who support activities both domestically and internationally.
The parents and families of athletes who give so much to support the athletes.
And finally, we would like to thank all the athletes who continue to dedicate themselves to developing and achieving excellence in and through fencing.
The full 2021-22 Directors' Report can be found here.
Don't miss the latest news. Subscribe to our weekly summary email, The Fencing Digest, featuring the previous week's latest news and announcements. Sign up here.