2021-22 ANNUAL REPORT – DIRECTORS' REPORT
In the first of the 2021-22 series of annual report news posts, the directors present their report and the financial statements for the year ended 31 March 2022.
Please note this is an excerpt from the full Directors' Report and Annual Accounts, published ahead the 2022 AGM. The full report can be found here.
The year ending March 2022 saw clubs beginning to reopen and the return of domestic and international events. The reopening required procedures be put into place to help prevent exposure to the Coronavirus-19 and combined with short notice changes to restrictions both in the UK and internationally this created a challenging operating environment as we emerged from the pandemic.
British Fencing provided guidance to clubs, event organisers and members on how to restart fencing safely, continuing the strengthening of engagement with our stakeholders.
The British Fencing events programme was restarted, albeit with significantly increased costs and limited venue availability, which in turn had a direct impact on scheduling and entry fees. Increasing venue cost and decreasing availability is a risk factor across the sector.
During the year, British Fencing worked towards the transfer of responsibilities for para fencing (formally wheelchair fencing) from the British Disability Fencing Association. This is an important step in our long-term objective to welcome many more people into fencing and support them in their journey in our sport. Our strategic intent remains broadly intact.
Our vision is for a strong, successful, and sustainable fencing community with a mission to inspire and enable people to start, stay and succeed in fencing, underpinned by our core values of Honesty, Respect, and Excellence.
Our strategic objectives have been updated to reflect the increasing intent to focus on inclusion and diversity in the community space:
A pathway to International success.
A stronger, empowered, diverse and inclusive community of 30,000 fencers, volunteers, coaches and supporters.
Accessible inclusive swordplay opportunities delivered via partnership programmes.
A sustainable future supported by high quality governance and infrastructure that is financially resilient.
Maximise the wider benefits of fencing and the positive impact it can have on people's lives.
The BF Board has continued to provide transparency through updates to members throughout the year and to support the BF executive team.
Whilst we seek to increase in-person interaction with our members, Board Members have continued to join the Executive team in connecting with the community through our ongoing programme of online Community Discussions and Listening Events.
The Board regularly discusses culture within our sport in terms of its importance in encouraging diversity, promoting well-being, and ensuring a safe and safeguarded environment. As the sport restarted, an increased focus was placed by BF on safeguarding and welfare, and the expectation moving forwards is that requirements in this area will only increase in light of events across the sector and updates in legislation. The Board receives an update from the CEO on safeguarding at each Board meeting and an annual briefing from the BF Lead Safeguarding Officer.
The Board believes that our sport overall has a positive athlete culture and we continue to monitor and identify areas for improvement, recognising the additional pressures on performance athletes. The elected GBR Athlete Panel have an important role to play in this.
On diversity matters, our priority is to increase diversity in participation of our sport, especially around gender and ethnic diversity. A significant amount of work went into our successful Sport England funding bid for 2022 which will help us deliver on this priority.
During the 2021-22 year, three Board Directors left the Board: Paul Abrahams, Chair of the AGRC, Thomas Cadman and Clare Halsted. Joining the Board as an elected director was Mary Cohen, as an independent director was Jochen Losch, and as appointed directors were Jade Clarke, Tom Murray and Francis Wilkinson who replaced Paul Abrahams as Chair of the AGRC.
Based on our experience of the financial situation in 2020-21, and the continuing impact of the pandemic, the board set a budget with a loss of £58k for the year. Due to the support of our funding partners, careful cost management and commercial initiative the year ended with a loss of £13k.
During the year, the Board continued to monitor financial management and risk through the Audit Governance and Risk Committee, reviewing financials quarterly to ensure we kept on top of the situation.
We remain extremely grateful for the flexibility and additional support from our funding partners – UK Sport and Sport England – which have played a vital role in achieving operational and financial stability.
Thanks to the support of our membership and funding partners, BF has retained a solid financial foundation, and this in turn enabled us to support a quicker restart and rebuilding of our sport, across participation and performance, in response to easing restrictions.
During the year British Fencing began to rebuild our commercial activity, particularly with regards to our Licence Partner Programme with schools, which is proving to be well received and successful.
Now that we have moved out of the pandemic, British Fencing continues to build on the success of the Licence Partner Programme, as well as looking for new commercial opportunities, with the objective of increasing the proportion of non-grant funding to ensure the future viability of British Fencing.
Overall, the Board recognises that this has been a challenging year, but that exceptional progress has been made to restart the sport, rebuild the membership base, and to build the offerings of British Fencing, from commercial opportunities to events and community initiatives.
Thanks to the support of our funding partners and the exceptionally hard work of our small but dedicated staff team we have continued to be able to serve and support our community.
The Board would also like to express sincere thanks to the volunteers and staff for their commitment in support and development of our sport.
Diversity Progress Statement as at March 2022
As of 03.11.2021, 42% of the occupied Director positions were women (5 of 12) and 58% are men. 25% of the occupied Director positions are ethnically diverse (3 of 12) and 17% are Black (2 of 12).
The Board met its targets in respect of gender diversity (minimum 30% of either gender) and other identified protected diversity characteristics. The Board continues to work towards maintaining gender diversity and increasing representation from young people, diverse ethnicities and people with disabilities.
As of 31st March 2022, 3/6 members of the BF Executive Team with senior management responsibilities were women (50%).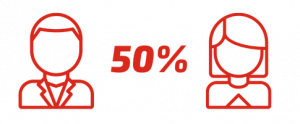 Governance Progress Statement as at March 2022
In November 2016 a new Code for Sports Governance was published which sets out a range of requirements that BF and other organisations in sport must meet to be eligible for public funding.
BF became fully compliant in 2017-18. The Board regularly reviews this status. Much of the work to remain compliant is now embedded into the work programme of the Board and policies and activities were reviewed and performed in accordance with the annual Board work programme. There were no areas of outstanding compliance identified.
Following a review commissioned in 2020, improvements to the Code are being implemented across the sector. BF is working with our funding partners to ensure that these recent additions to the Code are being appropriately implemented in accordance with best practice.
2021-22 Annual Report Series – Related Posts
Links to the each section of the 2021-22 Annual Report series will be available here when published.
2021-22 Annual Report – Events
2021-22 Annual Report – Membership and Clubs
2021-22 Annual Report – Media and Communications
2021-22 Annual Report – Projects and Programmes
2021-22 Annual Report – Anti-Doping
2021-22 Annual Report – Commercial
2021-22 Annual Report – Athlete Development Programme
2021-22 Annual Report – Coaching and Workforce Development
2021-22 Annual Report – President's and International Relations Report
2021-22 Annual Report – Committee Reports
Don't miss the latest news. Subscribe to our weekly summary email, The Fencing Digest, featuring the previous week's latest news and announcements. Sign up here.