2021-22 ANNUAL REPORT – EVENTS
This article forms part of a series of reports which accompany the 2021-22 BF Annual Report.  
As we entered a second year effected by Covid, 21-22 saw the focus change towards restarting events safely. Venue cost and availability remains one of the most significant challenges as numbers of participants grow.
Summary
In April 21 the impact of Covid was still being felt across the sport as various lockdowns prevented indoor competition being held. As these restrictions lifted BF prioritised resources to:
produce protocols which met government guidelines and thus pave the way for competitions to run albeit initially with additional measures
provide advice and guidance to competition organisers, supporting with community discussion events, template risk assessments etc.
deliver a fast start to the 21-22 competition season with 3 events in 3 weekends, with additional competitions focussing on the younger (U17 & U20) fencers (where in some cases fewer restrictions existed). Despite the significant challenges this provided a much-needed qualification and preparation route for 2022 U17 & U20 Euros and Worlds.
Events that took place in this period:
Cadet and Junior 'A' BRC Ranking Competitions 2021 – Men's and Women's Events (4-5th and 18-19th September 2021)
Cadet and Junior National Championships (11th and 12th September 2021)
British Senior Championships 2021 (Traditionally held in April, rearranged to 6-7th November 2021)
Cancelled Events
2021 (traditionally May) British Youth Championships 2021 – Event Cancelled (still in lockdown measures and no qualifiers had taken place)
2021 GB Cup (traditionally Summer) – Event Cancelled (still in lockdown measures and no qualifiers had taken place)
2021 FIE Junior Men's and Women's Foil World Cup – The Eden Cup – Event Cancelled due to travel restrictions
2021 EFC U23 Men's and Women's Foil – The London Cup – Event Cancelled due to travel restrictions
2022 (traditionally February) British School Team Championships 2022 – Event Cancelled due to venue availability and event participation restrictions put in place in schools.
Detailed Report
The first few months of the year 2021-22, our focus was working with Government and agency bodies (DCMS, UK Sport, Sport England) on returning to indoor competitive fencing activity. Building on ongoing community discussion events, the BF team consulted and collaborated with event organisers, working together to build on the indoor guidance, and share best practice with peers. May 2021 saw the introduction of the indoor competitive event protocols. These were initially highly restrictive and only when restrictions further relaxed could we publish the July 2021. version of the protocols which saw meaningful indoor competition start to return.
Summer 2021 saw the re-start of competitive fencing events, with both Cadet and Junior and Senior Ranking Events returning in the Summer/Autumn of 2021. Given our decision to restart indoor championship level competition as early as we could it was vital that we put in place appropriate testing protocols – these were developed under the guidance of BF's Chief Medical Officer Clare Halsted.
Whilst falling outside of the financial year, considerable efforts were put into supporting the Regions to put on BYCs qualifiers up to March 2022, with BYCs itself taking place for the first time post the pandemic in May 2022.
Participation Statistics
Over the period 21-22, 1,497 athletes took part over the 4 BF run National Events. 156 competitive fencing events (licenced through the BF Events Platform) took place within the year.
The September 2021 Cadet and Junior Nationals had a 16.9% (-117) decrease in participation compared to 2019 figures, with the impact of restrictions still in place in certain parts of the country still being felt. 2021 Senior Nationals held in November, saw a 7.9% (+30) increase in participation compared to 2019 which was a positive sign.
Customer satisfaction scores remained steady and comparable to previous seasons. There were inevitable challenges with the protocols, with face coverings and social distancing requirements necessary to meet the indoor sport and venue protocols. However, the majority of participants welcomed the decision to provide the opportunity to return to sport.
"I just wanted to send a very heartfelt thanks to making this month's Cadet and Junior Events so very well run….So fantastic to see our young people back in the halls, doing what they love and supported so well with such a enthusiastic team….a huge thank you" (feedback from attendees)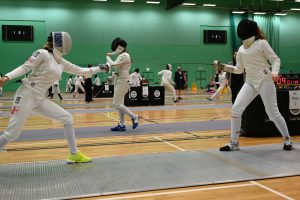 Image taken by BF at the Cadet Nationals 2021 in Nottingham
Financial Reporting
The restart of competition saw increased costs and limited venue availability,
With a reduced cadre of BF events for the 21-22 period, the combined result of all 4 events was a small surplus in the events budget of £2,736, which excludes all staff and equipment costs.
This result does not include over half of the BF portfolio events which are held in a traditional year, including The Eden Cup (FIE Junior Men's and Women's Foil World Cup) and The London Cup (EFC U23 Men's and Women's Foil), international events that whilst was disappointing not to be able to take place, always incur a financial deficit.
Our Volunteers & Officials
BF Events continue to be run by Evie Millar with support from across the team, supported by Competition Manager, Jon Willis. To put events on we continue to rely on volunteers who provide invaluable support to our team, bringing a wealth of knowledge and experience in running events.
This year has seen increased interaction with our volunteers and officials, with the introduction of Community Discussion events and pre-event drop-in sessions via Zoom before each event. These sessions have enabled further collaboration and establishing best practice in running events.
Following feedback from the refereeing community, the Senior Nationals 2021 saw the introduction of payments for referees on top of their expenses. This pilot has now expanded across BF Events, seeing Referees being paid between £40-£80 per day plus expenses depending on the competition and qualification level required. We hope that this will increase the numbers of referees willing and able to support BF events
As we look to 22-23, the next steps include appointing Head Referees at events to be responsible for supporting refereeing team, working with DT to manage allocations, fielding queries and supporting and advising referees and providing additional training and education opportunities through the BF Events programme.
Looking ahead to 2022-23
Moving into 2022-23, the focus for the BF Events Team is to continue to run high-quality national competitions coming out of the Covid-19 pandemic, scheduling and running a full complement of events, including BYCs, School Teams, GB Cup, the Eden Cup and the London Cup.
Rising venue costs and reduction in availability is a significant concern – already a factor in the postponement of 2022 Nationals from April to June.
We continue to deal with ongoing issues such as volunteer availability and the impact of the cost of living crisis, which are being felt across the sector.  Recognising the impact on participants, BF will look at expanding on the Entry Fee Support Scheme being piloted at the 2022 BYC.
Thank you
BF would like to thank all the volunteers who give up their time to make both BF and community events happen, particularly in this challenging period where additional measures and restrictions have created additional work, both in the planning stages and on competition day.
In particular, those event organisers who ran competitions in the summer/autumn of 2021, as restrictions were lifting and in particular the referees, volunteers and support staff who worked tirelessly on 3 back-to-back weekends in September 2021 to ensure Cadet and Junior competitions could take place.
Don't miss the latest news. Subscribe to our weekly summary email, The Fencing Digest, featuring the previous week's latest news and announcements. Sign up here.