2022 GB CUP
Last Updated: 12th May 2022
What is the GB Cup?
The GB Cup is an event for beginner and intermediate adult (16+) fencers.
The event aims to stimulate additional adult beginner and intermediate participation in the Regions and Home Nations by providing a mechanism to qualify and compete in an annual National tournament.
BF recognise there are numerous events across Great Britain that cater for this target audience and would like to support these competitions by providing a National Final to encourage additional opportunities for beginner and intermediate adult fencers, wanting to compete.
Whilst technically fencers can compete in both GB Cup and Senior Nationals  (if the schedule allows) they are different competition experiences aimed at a different level of fencing. The intention is for the GB Cup to provide a friendly national competition experience for fencers that are not at Senior National Championship level.
How do I enter and qualify for the final event?
The GB Cup will run with fencers qualifying through a Regional or Home Nation event for a National final. Regions across England and the Home Nations will nominate a competition as their qualifier, based on placings in these events, along with the eligibility criteria, they will select the two highest placed fencers in each weapon to represent their Region at the National Finals.
Is this competition for me?
The GB Cup is for adult fencers in the lower rankings, those not on the ranking lists, fencers who have recently started the sport and those fencers that have fenced for a number of years but do not currently enter national competitions but want to start and continue competing locally. The eligibility criteria are as follows;
Be aged 16 or over on 1 January 2022.
Be ranked outside of the top 50 of National Senior rankings in their weapon for Women's Foil, Epee, Sabre and Men's Sabre and top 80 for Men's Foil and Epee as at 1 January 2022.
Have never been selected by BF, Home Nation or other National equivalents to represent their Nation at any level (including GB, Home Nations or other National equivalents).
Have never won a Senior Open event
Have a valid BF Membership (Recreational level or higher)
Fencers may only enter the Regional event in the Region they have specified on their British Fencing Membership.
Fencers may only fence in one qualifying event per season.
Fencers must be UK residents.
FINALS EVENT INFORMATION
Dates: 4th June – 5th June 2022
Venue: EIS Sheffield, Coleridge Road, Sheffield, S9 5DA
Schedule: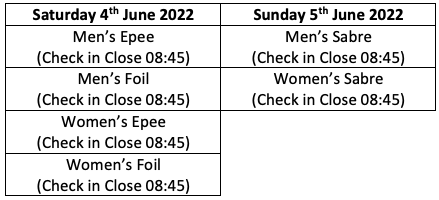 Start times may change depending on final entry numbers.
Accreditation and Field of Play: There will be an accreditation system in place at this event to access the Field of Play. To apply, please click here.
The application process will close at 5pm on Tuesday the 31st May 2022, at which point no further applications will be accepted.
Entry Fee Support Scheme: BF is mindful of the rising costs of attending fencing events and the potential barrier to participation this creates for some members of our community. As a result, BF is offering a limited number of free entries. These will be offered based on financial need, not on ability.  This scheme will cover 100% of the entry fee cost. Deadline for applications is Thursday 19th May at 5pm and how to apply can be found here
Event Contact: If you have any questions relating to this event, please contact [email protected]