PATHWAY STAGES
The Athlete Pathway Stages are based on the FTEM Framework.
The Performance Pathway Stages are those from T1 to M1 which describe the journey from Pre-Elite (T1 to T3), to Breakthrough Elite (T4) to Elite (E1, E2) and ultimately Mastery (M1).
T1 – Potential Identified – Verified through demonstration of competitive performance, skills and commitment to improvement. Domestic Ranking (Cadet/Junior/Senior) Top 15.
T2 – Emerging and Verification – Verified through period of observation across environments, holistic athlete profiling supported by club performance plans and benchmarking – Cadet International Medallist
T3 – Developing/Practising and Achieving – Commitment as a Pre-Elite Athlete and refinement of holistic skills through effective, deliberate programming – Junior International Medallist or Senior World Ranked 120
T4 – Podium Potential/Breakthrough – Breakthrough and preparation for transition through Elite Individual Program Plans, Competition Preparation and Exposure – Senior World Ranked Top 100
E1 – Podium Ready/Senior Success – Achieving significant and repeated success in peak international competitions such as Senior Grand Prix/World Cups – Senior World Ranked Top 50
E2 – Podium Ready/Senior Medal Achieving medal success in peak international competitions such as Olympics, Senior World Champs, Grand Prix/World Cups – Senior World Ranked Top 16
M1 – Podium/Sustained Medal – Sustained Senior International Medal Success over multiple High Performance Cycles
Each stage is defined using a number of Pathway Stage Components to describe the expectations of an athlete in that stage.
Behaviour and Commitment
Adaptability & Decision Making
(Ability to) Control and Dominate Distance
Technical Excellence
Ability to tolerate mental and physical load
Performance/Results
Training Environments
Support (Coaches, SS&M, Parents)
Competition Targets
Programmes
For a full description of these components  please click here.
It is important to note that in aligning athletes to stages:
no single component defines a stage
performances/results are not standalone stage entry or exit criteria
as an athlete moves through the pathway stages, the expectation is that they build on the skills, experience and knowledge of previous stages
the typical purpose of any funded pathway programme is to support athletes to move up the pathway to E2/M1.
we would expect athletes to move backwards as well as forwards. For example a Junior T3 athlete who moves to University may temporarily move down to T2 as their lifestyle impacts on their training and competition commitments. Some athletes may choose to make the significant commitment to a T4 lifestyle for a defined period, and will either succeed (moving to E1) or drop back (to T3).
Stage Description – T1-E2  Click Here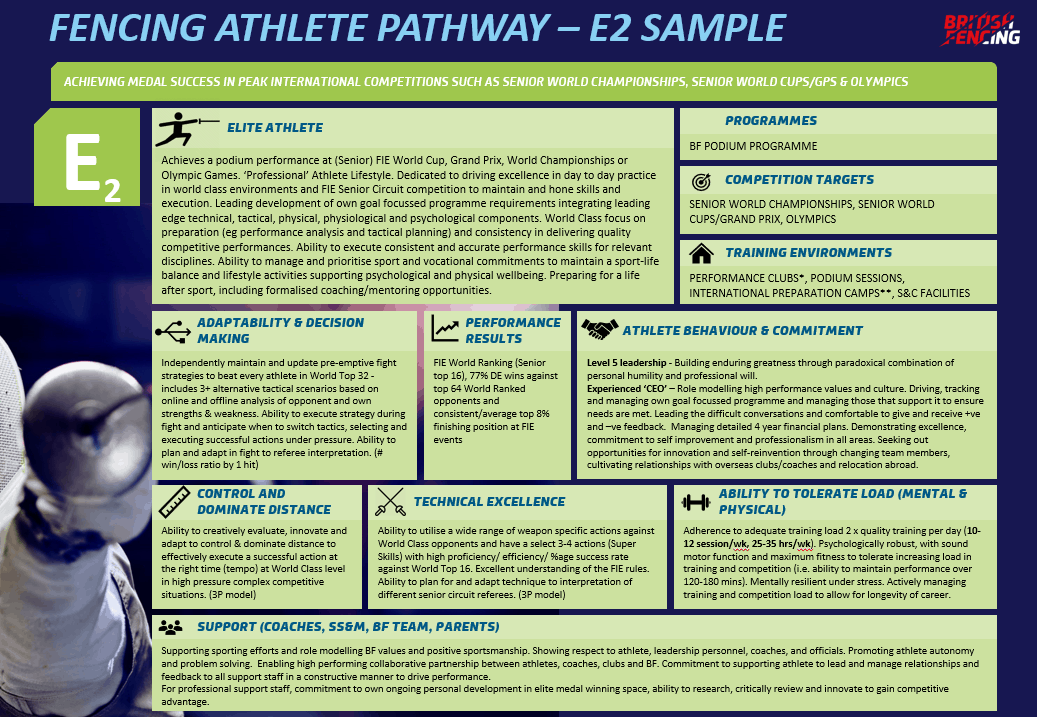 Return to the Pathway Zone to find out more about the Athlete Development Pathway.
Return to 'The ADP Zone' to find out more information about the work that we do.