BRITISH FENCING U14 NOTTINGHAM EVENT 2023
Updated: 07.07.2023
The BF U14 Nottingham Event will take place during the weekend of the Cadet and Junior National Championships 2023 (16-17th September 2023 – David Ross Sports Village, University of Nottingham).
Event Information
Schedule:
Saturday 16th September 2023 – Epee & Foil
Sunday 17th September 2023 – Sabre
Check In Closing Times
| | | | |
| --- | --- | --- | --- |
| Saturday 16th September 2023  | Check In Close   | Sunday 17th September 2023  | Check In Close  |
| U14 Girls Foil | 08:45 | U14 Girls Sabre | 12:00 |
| U14 Girls Epee | 08:45 | U14 Boys Sabre | 12:00 |
| U14 Boys Foil | 13:30 | | |
| U14 Boys Epee | 13:30 | | |
The schedule has been arranged so that U14s who wish to enter the U17 (Cadet Championships) are able to do this
Entry Fee: £65
Entry Opening Date:  Monday 26th June 2023 (09:00)
Entry Closing Date: Friday 1st September 2023 (17:00)
Entry Limit: 16 per weapon
A waiting list will be in operation when the entry list is full.
Ages for U14 Events:  Year Of Birth  2010 – 2014
(Season 2023/2024, Age as of 1st January 2024)
Entry Fee Support Scheme:
The BF Entry Fee Support Scheme will be in place for this event.
BF is mindful of the rising costs of attending fencing events and the potential barrier to participation this creates for some members of our community.
As a result, BF is offering a limited number of free entries to qualified fencers to attend this. These will be offered based on financial need, not on ability. This scheme will cover 100% of the entry fee cost.
Applications must be completed per athlete. For multiple athletes from one household, please complete separate application forms.
Applications close Monday 14th August 2023 – 5pm
All applicants will be told the outcome of their application by close of play on Wednesday 16th August 2023
Format: 2 x poules of 8 split over 2 pistes with top 50% being prompted to Tableau A and the bottom 50% being promoted to Tableau B.
Each tableau of 8 is fenced for all places so each fencer gets 3 DE fights, win or lose.
Poules matches are 5 hit or 3 minutes, DE matches are  12 hits or 3 x 2 minutes.
Equipment:
Weapons Sizes: Size 2 for Epee and Sabre and Size 3 for Foil (conductive bibs are not required)
Plastron: Plastron to be 350N minimum
Masks: Please note that the FIE rules m.25.7.f  regarding masks (this rule includes the 2 rear safety systems and single backstrap) are NOT in operation for this event.
Field of Play Restrictions & Accreditations
Accreditation is not needed to gain access to the hall or to get onto the fencing floor where you can get up "close and personal" to the action. You will be behind the barriers placed around the "Field of Play".
The Field of Play is defined as being inside the barriers placed around the fencing pistes. We have those there as both a safety and learning feature – it stops fencers and referees being crowded during the event, allows for quick and easy access to the pistes for medical or welfare staff should they be needed and finally it replicates what a fencer and their support team will encounter at major events abroad and at home.
At all BF events, the Field of Play is set out as cones/barriers which are between 1-2 meters away from the back of the piste. Meaning that parents/carers/supporters can be nearby to assist with filling of water bottles/kit without stepping onto the Field of Play and requiring accreditation.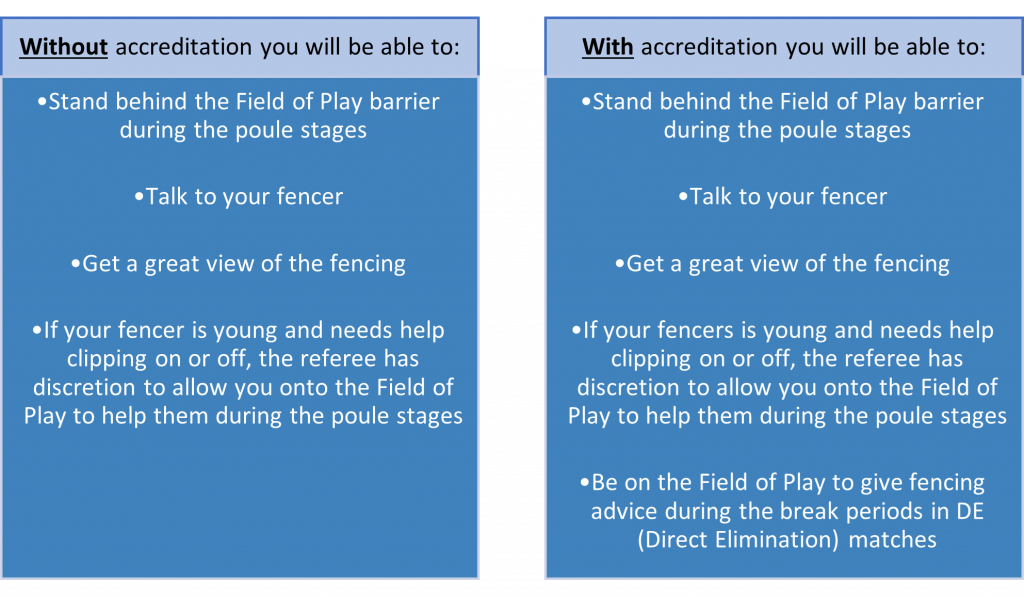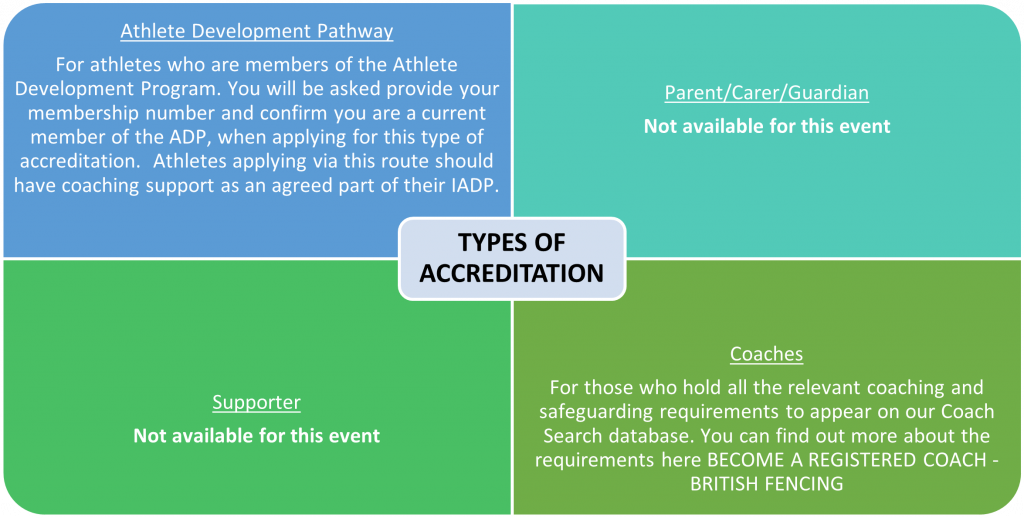 Medical: There will be a medical team the event throughout. They will be seated in an area clearly marked as MEDICAL.
Welfare: There will be a dedicated welfare officer at the event who will be clearly visible throughout. All welfare issues that arise at the event must be reported to the welfare officer present.
Sustainability: As part of BFs commitment to reducing the environmental impact of our sport, no single-use plastic bottles will be permitted on the field of play. We hope that the community will support efforts in this area and ensure that everyone brings re-useable bottles to the venue. Where possible, re-useable bottles will be on sale.
Prayer Room: There will be a prayer room available at the venue throughout the event. Please ask at reception or speak to a member of the team and they will direct you.
Disabilities: BF recognises that many disabilities are hidden and participants in competitions may need additional support throughout the event. Any disability information that you provide in your membership profile (provided that you have given permission to share) will be passed to the organising team and a member of the event welfare team will get in touch to discuss how we can help. Alternatively you can contact us in advance either by emailing the events team directly [email protected], or the BF safeguarding lead ([email protected]). Finally, you can ask speak to a member of the onsite team at check-in. Please note the earlier you raise any additional support needs the better able we are to make reasonable accommodations.
Photography Policy: Anyone wanting to take photographs using any kind of professional or semi-professional camera equipment must apply for accreditation in advance of the event. Accreditation will not be available during competition. This means any kind of camera with a detachable lens, including DSLR, mirrorless and film camera systems, and/or using any kind of tripod or monopod. Photo accreditation is for still photography only – no video recording or video equipment is permitted. Live streaming or broadcasting video in any way, from any device including smartphones, is also not permitted.
All photographers at the event must follow the instructions of the BF media representative, the Event Director, and the referees.
Please email: [email protected]British Fencing reserves the right to refuse or withdraw photographic accreditation at any time without giving a reason.