FENCING FOR EVERYONE: #ITRIEDFENCING IS AVAILABLE ON BFTV
The series of 8 videos with fun activities and coaching lessons is available on BFTV. Try one or more activities and claim your certificate of participation!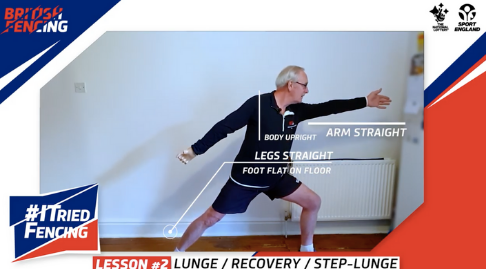 Fencing is more accessible than ever with the #ITriedFencing activities you can start right now from home on BFTV.
Created during UK's first lockdown in 2020, #ITriedFencing is a great way to introduce fencing to young people in a fun way, adapted to your house setup. Learn basic moves, practise with games, and use your creativity to make your own sword and props.
Parents and teachers can claim a printable certificate to award young fencers who completed one or more of the activities.
The series of eight videos is part of a larger library of content produced for Scout leaders to introduce fencing to their groups. If you are a Scout leader and interested in accessing those resources, please click here.
Try fencing now and share your best moments with us tagging British Fencing on your social media channels.