MARCUS MEPSTEAD WINS IOC CLIMATE AWARD
GBR foil fencer and 2020 Olympian Marcus Mepstead has won in the Sustainable Travel category of the inaugural IOC Climate Action Awards, announced on Friday 29th September 2023.


Launched in November 2022, the IOC Climate Action Awards recognise Olympic and Paralympic athletes, international sports federations and national Olympic committees (NOCs) for proactive efforts in tackling climate change.
Mepstead, a long-time environmental advocate who has done work for the Trees For The Future charity, was shortlisted in both the Athlete Advocacy and Sustainable Travel categories. He won the latter award along with World Sailing and the Spanish Olympic Committee. More details here.
As well as the award, Mepstead also won a grant of $24,000 for the charity Trees For The Future, along with nineteen other Olympic and Paralympic athletes, in a related award sponsored by Proctor & Gamble, as part of their Athletes for Good (AFG) programme in partnership with the IOC and IPC, to provide financial resources directly to the community impact partners important to athletes.
Marcus said: "I am really happy to be receiving the Airbnb climate action award for sustainable travel as well as receiving the grant towards Trees For The Future from P&G. It's really motivating to see so many athletes and organisations taking big steps towards tackling climate change, and I am really grateful to those within the IOC that are pushing these conversations into action."
In addition to selling his car and opting to commute to training on foot and by bike, Mepstead has also implemented a seasonal travel plan that minimises emissions.
On Trees For The Future, he said: "I wanted to support them. What they do is they basically manage unsustainable land use. They help farmers in sub Saharan and East Africa, on managing their land and turning it from pretty unproductive and low-producing into a forest garden, over a six year programme  which helps generate food security, financial security, jobs, and opportunities for women. It reduces conflict with surrounding nature and also within communities.
"When I first started working with them, one of the goals was to be able to fund like a forest garden but it's expensive and with my funding, I didn't have a huge amount that I would be able to contribute towards it. So I work out my carbon contribution from all the flights I take to compete, and offset it, and also then promote working with the charity and giving them a platform using my social media to basically advocate and promote what they do. We don't get to choose which competitions we go to, because we have to go everywhere to collect points for Olympic qualification. So for me, the biggest thing I could do was was offset my carbon from my travel.
"Last year, with the help of of Trees for the Future and the Uganda Wildlife Authority, I went to Uganda to see some of the forest garden and meet some of the farmers, see gorillas and understand how they have created a economy out of sustainability and sustainable tourism and conservation."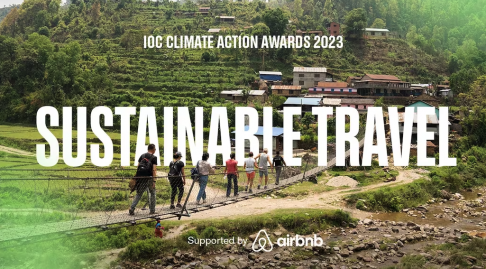 He added: "The key to being like a sustainable athlete is creating change within the sport and creating conversations and it was really cool to hear back from the IOC and to be shortlisted for this award and others as well.
"In the run up to the Tokyo Olympics I got involved in cheering people on, and it was an effort to get people more active, but for me it was also like a nice conversation about switching from your car to walking, taking greener transport where you can. I've had conversations with Team GB on how they can create a green space, and they're looking at developing an athlete panel, letting athletes look at or contribute towards making sport a greener space. I've plenty of ideas – it's about managing where it fits and where it works."
Read more about the IOC's Climate Action Awards here.
Mepstead has also been working on creating a fencing glove made out of recycled ocean plastic, with a distinctive wave pattern. "I wanted it to be like fighting for the ocean when I was playing in tournaments. The goal was to create a sustainable range and kind of change the conversation to get manufacturers looking at it, and saying 'okay, how do we get in on this?'  My goal was to have different manufacturers competing on how they can be more sustainable."
Read more about Trees For The Future here.
---
Don't miss the latest news. Subscribe to our weekly summary email, The Fencing Digest, featuring the previous week's latest news and announcements. Sign up here.