PGL Travel Ltd

Note: This page was published in 2018, and is no longer being updated. Click here for the most recent BF project with PGL in 2023.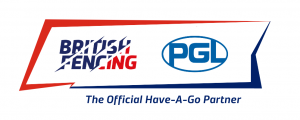 Licensed Partner Programme Affiliate
In 2015 a review and recommendation report to BF was conducted for coaching, as well as services and products. In the latter part of the reviews it was apparent that products and services that BF delivered to activity providers was not really fit for purpose. It meant using metal equipment, and the methodology of delivery was not what business were used to when dealing with other sporting NGB's.
Change needed to happen to build relationships with business so they would like to offer fencing still and not come away from us as an NGB and go it alone. We needed to find a testing partner and we looked at our biggest customers we did business with, and luckily for us PGL Travel Ltd came back straight away wanting to try out a new way of working.
James Craig, Commercial Manager for BF has the following to say about the relationship:  "….in PGL we have our first partner who worked with us at the very beginning of when we started to redevelop our coaching framework. They were an invaluable testing bed and we were able to service them so they could deliver while we were still building and testing the product at an organisational and operational level. We also learnt a lot about the activity provider sector from them. This agile and collaborative way of working would not work for everyone and I am forever grateful for their enthusiasm for fencing and what we were trying to do as an NGB to better our offer to organisations".
In effect what we offer PGL as well as a growing number of other organisations that would of usually wanted to book multiple courses with us for their staff, is that we offer a bespoke licensed programme. An organisation comes to BF so they can be able to deliver part of our Core Coach qualification to their staff. They are able to do this as we recognise prior learning in the licensing process and sense check their minimum standards along the way. The immersive nature of the process and enabling approach we try to offer  means that the Licensed Partner gets the NGB qualification as well as BF tweaking the course to make it environment specific to truly meet their needs."
"PGL are continuing to be invaluable for our product and service development as they really live our values of honesty, respect and excellence. The relationship has gone from strength to strength and they were the first to share their impact with us which has gone from 76k  (2015) to 81k (2017) unique fencing experiences."
"We will be doing some further work in 2018 with PGL to ensure that those 81k fencing experiences can be connected, where relevant and interested, onto more fencing opportunities that will sustain and develop the participants journey with fencing."