BF WELCOMES 14 NEW UNIVERSITY FENCING OFFICERS (UFOs) FOR 2022
On September the 10th and 11th, BF hosted the second weekend of training in 2022 for the newest cohort of University Fencing Officers (UFOs). The weekend provided an opportunity for the students to meet, to learn new skills, to share ideas and to gain their first coaching qualification.
The weekend in Nottingham saw 14 students from 11 universities across the UK come together to learn about the role of a University Fencing Officer. Some of the students were experienced fencers, and some were completely new to the sport. This was the second UFO course of this year: in March, we saw 18 new UFOs from 15 different universities qualify.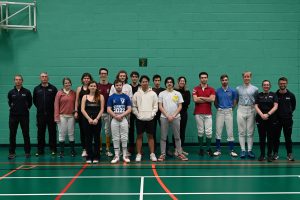 Training included learning about how to give and receive feedback, as well as fun games designed to create a dynamic and enjoyable learning environment for new fencers. Everyone was given the chance to be a coach and student, providing an opportunity for the cohort to experience the training from both sides as well as providing their own unique twist on games and exercises. There were lots of feedback and the sharing of ideas, and participants got the chance to do everything more than once in order to adapt and to try out new ideas. On the final afternoon, the students learned about Sabre-lite.
David, from Keele University, said:
"The most important thing is about having fun, and this weekend has been fun and with nice people. I just want to try and replicate that environment at the club."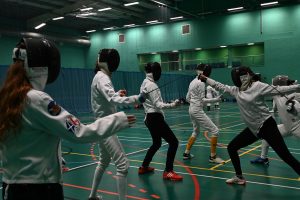 Students were also given the opportunity to explore the reasons people may become involved in fencing, delivered by Virginia Bailey (BF Participation Director). This session was based on the 'Behind the Mask' research conducted by BF and Crowd DNA in 2021. These insights helped students to think about creating a welcoming, fun environment within their clubs that can meet the needs of various personality types.
Lorraine Rose, BF Workforce Development Officer, said:
"It was a hugely enjoyable weekend with lots of laughter as well as learning. It's great to see these students not only making friends and learning new skills, but also wanting to give back to their university through fencing. We have some wonderful people in fencing who started their involvement at university, so it's lovely to play a part in supporting these young adults on their fencing journeys to help others learn about the sport. I know that they will help to create fun, vibrant, welcoming university clubs when term starts."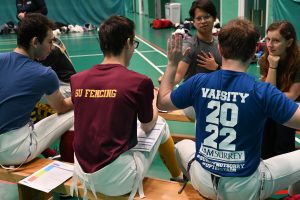 The training was developed with support from Sport England. Since 2017, over 100 students have taken the opportunity to become a UFO and deliver fencing using peer-peer delivery, with nearly 1500 students getting involved in fencing classes overall.
In return for a greatly discounted price, the students collect anonymous data on how many participants they have, their ethnicity and gender. This enable us to feed back on the success of the program and continue to receive greatly appreciated financial support.
Bruce, from Heriot-Watt (March cohort), said:
"A practical hands on course, well structured and relevant, run by friendly and knowledgeable instructors. Thoroughly enjoyed and highly recommended."
All images from the weekend are available on the BF Digital Portal here. A guide to using the portal is available here.
Want to become a University Fencing Officer?
The next UFO weekend is planned for September 2023, but BF is looking at the possibility of providing a networking opportunity for all existing UFOs in January 2023.
If you are interested in becoming a UFO, please fill out the notice of interest form here or contact [email protected].
Now that we are back from the break enforced on us by COVID, BF is looking forward to re-engaging with existing UFOs and offering ongoing support to both them and the new 2022 cohorts.
Don't miss the latest news. Subscribe to our weekly summary email, The Fencing Digest, featuring the previous week's latest news and announcements. Sign up here.