2022-23 ANNUAL REPORT – COMMERCIAL
This Commercial report forms part of a series of reports which accompany the 2022-23 BF Annual Report.
In 2022-23 our commercial focus remained on the education sector with a goal of working with 30 new schools, or commercial delivery partners, who in turn would deliver the Resilience and Self-Efficacy programme (previously referenced as PSRP or Primary School Resource Pack).
Our underlying strategic objectives built on the recovery work done in 21-22 and are reported on below.
Objective 1. Diversify Portfolio of Partners
By April 2023 formal agreements were in place with 28 organisations, an increase of 17 from the previous year.
To support marketing efforts in the education sector a significant re-branding project for the PSRP was undertaken, based on insight and feedback (see below). The resulting logo/brand 'We Are Forging Futures' launched in the 2022-23 academic year, with a dedicated website, social media channels and brand. The brand provides a new, engaging way for BF to attract and activate school and activity provider partners.
Educational establishments partnering with BF include multi-academy trusts, independent schools and state-maintained schools, further evidence that fencing is an inclusive sport that is attractive and adaptable to deliver tangible outcomes across the education sector.
*Full list of partners can be found at https://weareforgingfutures.com/partners/
Outside of our education sector offering an exciting new partnership with ALF Insight will further help to identify potential sponsors and enable BF to diversify its revenue sources.  Our established Internal Licensed Partner Programme expanded with two new businesses; Carnival UK and Barracudas Activity Day Camps. They join PGL Travel Ltd, Kingswood Inspiring Learning and Center Parcs, giving further breadth to our partner network and increasing BF's ability to share fencing with new audiences. Finally, our supplier relationship with Telescopic deepened, with a two year deal which saw them become BF's Official Technology Supplier, helping us to create and implement our digital strategy to support delivery – including the Explore Fencing App and the underlying content management system.
Objective 2. Strengthen our Commercial Offerings through Data and Insight
As mentioned above, 2022-23 saw a change in the branding and positioning of the PSRP product, to engage with both primary and secondary school audiences. Part of this work was to ensure we better promote the distinct aspect of our offering, the ability to deliver educational outcomes over and above the standard PE offering. These include broader personal development, enrichment and deeper physical literacy outcomes founded on evidence and insight from our partners.
The resulting 'We Are Forging Futures' brand creates an umbrella for current and future programmes specifically designed for the education sector and those delivering activities to them, with the PRSP repositioned as our introductory Resilience and Self-Efficacy programme for 4-14 year olds.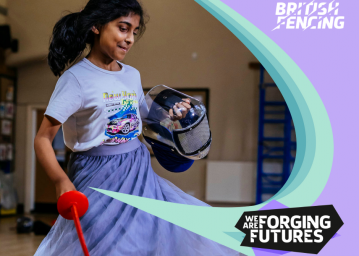 Two partner schools accessed the governments Open Schools Facilities Fund, which helps schools to develop their facilities and programmes so they can be made accessible to the public.  The successful bids were awarded due to the focus on SEND (Special Educational Needs and Disabilities) and diversity. Our intention is to support more schools with similar focus areas to access this funding as part of their partnership with BF.
As part of BF's commitment to embed Physical Literacy into our products, we have engaged with the International Physical Literacy Association, who are providing us with valuable expertise and insight as we develop our offerings.
For example within our 'We Are Forging Futures' offerings, fencing is presented as an active learning approach, providing positive experiences around physical activity in an engaging and inclusive manner which leaves participants with an appreciation for healthy participation in sport and physical activity.
Objective 3. Sustain 
The main commercial objective is to generate revenue that supports the organisation and reduces its reliance on external funding.  This contribution to the overall sustainability of the organisation enables us to better support the sport and our members.
In 2022-23 revenue increased from £110k to £172k, showing a 56% increase in revenue year-on-year, and proving to be British Fencing's best year ever in terms of commercial revenue and gross surplus. All our surplus is reinvested in supporting delivery to members, for example helping to cover the losses in the BF Events Portfolio.
Towards the end of 2022, BF recruited a new National Partnerships and Engagement Manager, to replace the previous staff member who left BF to take a senior role opportunity back education. Harry Brown comes with a fantastic career to date and is excited to work in sport, sharing his skills and experience to continue our focus on sales and pipeline development in the Education sector.
Coach Education Metrics
Directly Delivery – 50 courses (increase of 8)
Supported Delivery – 61 courses (increase of 19)
Explore Fencing E-learning – 73 individual sales (including bulk registrations) and 70 learners through selling eLearning to one licensed partner.
Looking Forward
Our focus areas for 2023-24 include
Through We Are Forging Futures, growing our network of likeminded schools that are evidencing the impact of fencing through it's connectivity to multiple school objectives over and above the standards PE, School Sport and Physical Activity.
Expanding our work with commercial delivery organisations (eg our 5-year partnership with Kickstart is expanding to support We Are Forging Futures inspired delivery).
Enhancements to the online BF Learning Zone which will not only support the educational needs of our delivery partners but also has wider benefit across our membership community as we seek to offer additional education and training opportunities through this platform
Don't miss the latest news. Subscribe to our weekly summary email, The Fencing Digest, featuring the previous week's latest news and announcements. Sign up here.