2022 BRITISH SENIOR CHAMPIONSHIPS AND BRITISH TEAM CHAMPIONSHIPS
Last Updated: 9th June 2022
EVENT INFORMATION
Dates: 3-5th June 2022
Venue: EIS Sheffield, Coleridge Road, Sheffield, S9 5DA
Entry Fees and Closing Date:
British Senior Championships: £75
British Team Championships: £125
Entries will close on Tuesday 17th May at 17:00*, late entries may be accepted at the organiser's discretion at a fee of £125 for Individual events and  £200 for Team events.
*Deadline extended 11th May 2022
Schedule:

Para Fencing Schedule: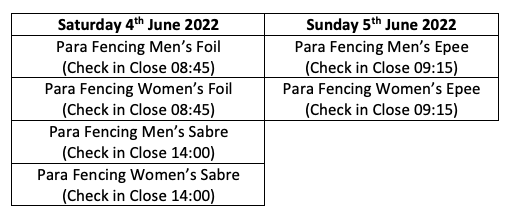 Start times may change depending on final entry numbers.
For individual events where 'Start Time' is listed below the event, there is no check-in at this event.  Fencers must report to the referee on their piste, ready to fence, 15 mins before the scheduled start time. Poules will be drawn and displayed online at 6pm the day before the competition.  Information will also be displayed at the venue.
Fencing can start a maximum of 10 mins before the official start time if all fencers for the competition are present at their piste.
The 2022 British Senior Championships will also see the introduction of the B Championships, with fencers eliminated from the poule stage of the competition, being promoted to the B Tableau and then competing for the British B Championships on the same day.
Withdrawals:
For individual events where a start time is listed, Fencers can withdraw up to 12noon the day before their competition using the online form here
Any fencer who has entered and does not present themselves to fence, except in a case of properly authenticated 'force majeure', will be penalised with a £250 fine with their British Fencing membership suspended until the payment of fine is received.
On the day withdrawals can be done via phone using Event team contact number – 07738107026
Ranking Points: The 2022 British Senior Championships 2 x normal NIF for Seniors and Under 23's for domestic Senior ranking points (i.e. double points)
The 'B' Championships NIF of 1.8 x the number competing
The 2022 British Senior Championships is nominated for Junior ranking points with a points multiplier of 300.
British Team Championships Format:
Poules of 3 or 4 with all teams being promoted to direct elimination.  Teams are put into Tableaus of 8 based on their rankings after the poules.  Tableau A will contest places 1-8, Tableau B will contest places 9-16, Tableau C will contest places 17-24 etc.  There is a Bronze medal match but no other placement matches.
If the entry is 5 teams or below the format changes to a poule unique followed by a Gold medal match and a Bronze medal match.
Teams must be a British Fencing Affiliated Club. Fencers must be members of the affiliated club. If there is an appeal made the club secretary will be contacted to confirm membership. Scratch teams are not allowed. If a complaint/appeal is investigated and upheld post event, clubs will not be permitted to complete in the European Club Team Championships. Fencers are expected to represent the same club in the individual events as the team events.
Eligibility and Membership Level: British Championships at Junior, Under 23 and Senior levels will be open only to those holding British Nationality, including those holding multiple nationalities, provided the fencer does not hold an FIE licence issued for a country other than Great Britain. More information on eligibility can be found here.
For the British Team Championships, each team may have a maximum of 1 fencer who does not hold British Nationality or holds an FIE licence for another federation other than British Fencing.
All fencers for both the individual and team events must hold a British Fencing Compete Membership. 
Equipment: All fencers must wear the correct kit as per British Fencing rules. This will include FIE chest protectors (m.25 4(c) ) and 800N sabre gloves (as per the rule at https://www.britishfencing.com/urgent-safety-notice-sabre-gloves/)
Accreditation and Field of Play: There will be an accreditation system in place at this event to access the Field of Play. To apply, please click here.
The application process will close at 5pm on Tuesday the 31st May 2022, at which point no further applications will be accepted.
Refreshments: Cafe and vending machines available.
Parking: Parking is available at the venue.
Medical: SportEM will be providing medical cover for the event.
Shop: Leon Paul Stand will be at the venue throughout the weekend.
Welfare: There will be a dedicated welfare officer at the event who will be clearly visible throughout. All welfare issues that arise at the event must be reported to the welfare officer present.
Entry Fee Support Scheme: BF is mindful of the rising costs of attending fencing events and the potential barrier to participation this creates for some members of our community. As a result, BF is offering a limited number of free entries. These will be offered based on financial need, not on ability.  This scheme will cover 100% of the entry fee cost. Deadline for applications is Thursday 19th May at 5pm and how to apply can be found here
Sustainability: As part of BFs commitment to reducing the environmental impact of our sport, no single-use plastic bottles will be permitted on field of play. We hope that the community will support efforts in this area and ensure that everyone brings re-useable bottles to the venue. Where possible, re-useable bottles will be on sale.
Media: Please note there will be filming and photography including live streaming at this event for BF purposes. If you do not give photography/filming permission for yourself or your athlete, please contact [email protected] before the event.
Event Contact: If you have any questions relating to this event, please contact [email protected]
FAQs: See Frequently Asked Questions about the 2022 British Senior Championships here