The Cadet and Junior World Fencing Championships were scheduled to run in Salt Lake City between April 3rd and April 11th 2020. On March 12th 2020, the championships were postponed due to the unfolding situation with COVID-19.
Our advice and guidance at this time can be found here.
We recognise the impact this has had on athletes, parents and coaches. This post is to recognise and celebrate the accomplishments and the journeys taken by the athletes who would have been competing at these championships.

Sabre – April 3rd til April 5th 2020
Junior Men's Sabre
Julian Richards II (Leon Paul)
Barney Halliwell (Shakespeare's)
Luke Haynes (Truro)
Bertie Holdsworth (Truro)
Non-Travelling Reserve – Alex LeMaitre (Guernsey Fencing Academy)
Junior Women's Sabre
Sophia Potter (Shakespeare's)
Ellen Robbins-Wilkinson (Esprit)
Hannah O'Reilly (Truro)
Elsie Llewellyn (Sancroft Blades)
Non-Travelling Reserve – Bea Abram-Moore (Truro)
Cadet Men's Sabre
Rory McLellan (Salle Ossian)
Sam Allen (Truro)
Max Cromie (Truro)
Non-Travelling Reserve – Ian Ho (Brentwood)
Cadet Women's Sabre
Lexie Craze (Truro)
Beth Brierley (Manchester Fencing Centre)
Foil – April 6th til April 8th
Junior Men's Foil
Cameron Evans (Fencing Academy of Westchester/ZFW)
Isaac Jolley (Chichester)
Matthew Abrahams (ZFW)
Will Lonsdale (Louth)
Non-Travelling Reserve – Edmund Howlett (ZFW)
Junior Women's Foil
Yasmin Campbell (ZFW)
Teagan Williams-Stewart (Newham Swords)
Bronwen Granville (Bath Sword)
Mhairi McLaughlin (Salle Holyrood)
Non-Travelling Reserve – Phoebe Newton-Hughes (Allez)
Cadet Men's Foil
Rafael Rhys-Pollitt (FCL)
Oliver Strange (Salle Paul)
Jaimie Cook (Salle Holyrood)
Non-Travelling Reserve – Dario Stenbeck-Schiavo (ZFW)
Cadet Women's Foil
Carolina Stutchbury (Epic Fencing Club/ZFW)
Amelie Tsang (ZFW)
Martha Carus Bird (Cobham)
Epee – April 9th til April 11th
Junior Men's Epee
Ben Andrews (Plymouth)
James Jeal (DEA)
Billy Shepherd (Skipton)
Harry Palmer (De Montfort Uni)
Non-Travelling Reserve – Nathan Foster (Skipton)
Junior Women's Epee
Laura Sheffield (Brixton)
Alex Powell (Malvern)
Rachael Lever (OPS)
Louise Sadler (Malvern)
Non-Travelling Reserve – Maia Henderson-Roe (Hussar)
Cadet Men's Epee
Alec Brooke (Knightsbridge)
Joe Walmsley (Greater Manchester)
Ed Scott-Payne (Leon Paul)
Non-Travelling Reserve – Louis Taiwo-Williams (DEA)
Cadet Women's Epee
Isabella Summers (Leon Paul)
Sophie Peat (3 Blades)
Patrycja Krzyzaniak (Chelsea)
Non-Travelling Reserve – Keira Papadopoulos (Edinburgh)
Throughout the Cadet and Junior season, these athletes, and many others were responsible for remarkable performances on the international stage as they competed to reach Salt Lake City.
In Cadet Sabre, at the London Cadet International, in the women's event Bethany Brierley won gold with Lexie Craze winning bronze. In the men's event, Rory McLellan won silver. In the team events, Great Britain won gold and silver in the women's event, and silver and bronze in the men's.
In the Juniors, Barnaby Halliwell recorded a top 8 finish at the Plovdiv Junior World Cup, and the Junior Men's Sabre Team finished 4th at the Boston Junior World Cup.
All of this meant a total of 10 Cadet and Junior Sabre fencers met the qualification criteria for the World Championships.
The highlight of the Cadet Foil season was Carolina Stutchbury's incredible bronze medal at the European Championships in Porec, but it was by no means the only stand out performance of the season. At the Warsaw European Cadet Event, both Joe Donaghue and Rafael Rhys-Pollitt won bronze medals, while at the Poznan European Cadet Event, the Great British Women's Foil team finished 4th.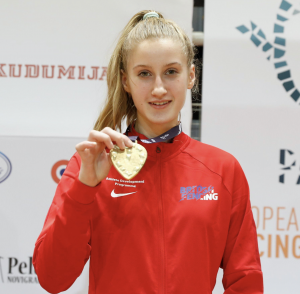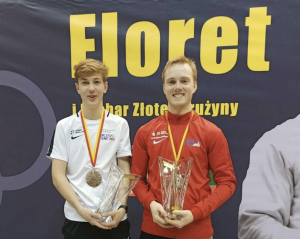 Junior success in Foil began on home turf, with Cameron Evans winning bronze at the London Cup. Cameron and team-mate Matthew Abrahams followed this up with gold and bronze respectively at the Guatemala City Junior World Cup.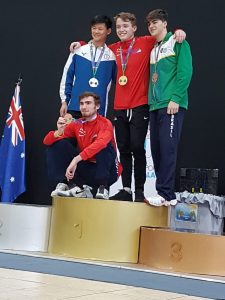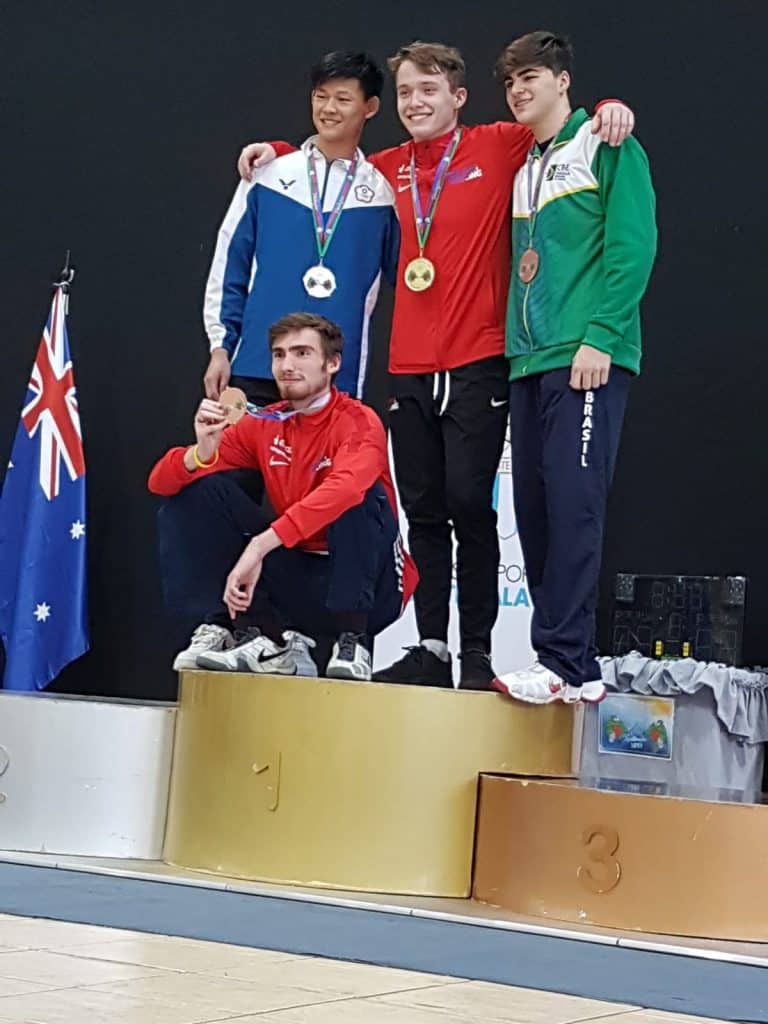 A total of 13 athletes across cadet and junior Foil met the qualification standard for the World Championships.
Epee had a truly unprecedented year of consistent performances at international level, with 18 athletes across Cadet and Junior Epee reaching the qualification standard for the World Championships.
There were medals in Copenhagen at the European Cadet Circuit, with Isabella Summers winning silver and Ed Scott-Payne winning bronze. In the team events, Great Britain won gold in the women's event and bronze in the team event.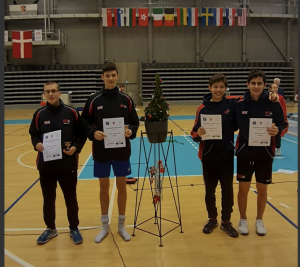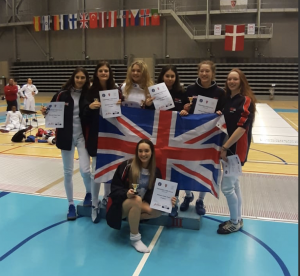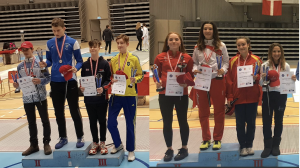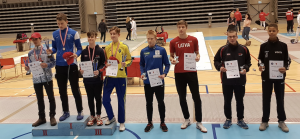 At Junior level, Laura Sheffield won a silver medal at the San Salvador Junior World Cup and a bronze medal at the Dijon Junior World Cup.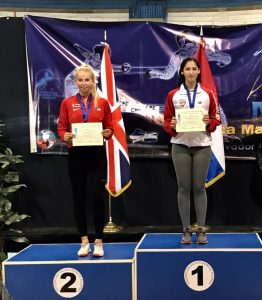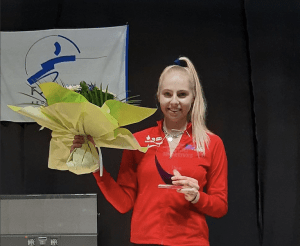 At the European Championships, there were remarkable performances with Ed Scott-Payne and Alec Brooke reaching the quarter-finals of the Cadet men's event and Ben Andrews reaching the quarter-finals in the Junior men's event.
Our whole community unites in recognising the achievements of our Cadet and Junior athletes across the season.
There are great support teams who have combined to make these performances possible, the Athlete Development Programme (ADP) Weapon Leads – John Rees, Chris Galesloot and Jon Salfield, the team managers and referees, athletes' personal coaches and of course parents and families. The partnership between the ADP and the True Athlete Project has been vital in establishing a culture of athlete well-being. All of this is supported by the funding that the ADP receives from Sport England, with further support for individual athletes from TASS and SportsAid, without whom much of this would not be possible.
From the Athlete Development Team and all of us at British Fencing, congratulations for what you have achieved this year. We are looking forward to the future and rejoining the rest of the world.
Until then, take care of yourselves and each other. If you need help or support, please see our Are You OK? page.