Anatomy of a Coach Profile: James Williams
We take a look at James Williams' coach profile as a good example of how to create your coach profile on the new online coach register.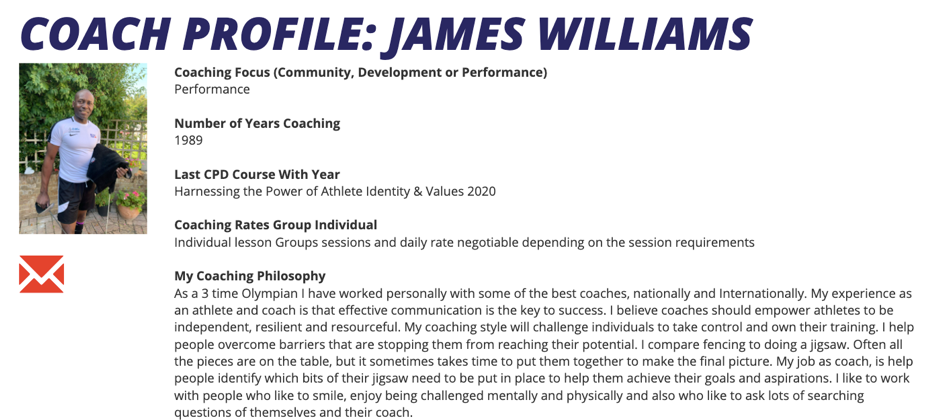 In 2020, British Fencing welcomed James Williams as an elected member of the board. This is one in a long list of achievements in James's fencing career, spanning his contribution to the sport as a GBR athlete, serving on the FIE Athletes Commission and the Board of the British Olympic Association, and several roles in British Fencing, such as Coach Developer, Performance Manager, Weapon Captain, and selector.
James has dedicated many years to coaching as well, having served in several clubs in the UK, with a focus on the Performance level. James shares more about his coaching in his Coach Profile, a feature of the new Coach Register which is being phased in to replace the legacy system in January 2021.
Making good use of the Coach Profile, any registered coach can equally present an overview of who they are as a coach. By highlighting the most relevant aspects of your coaching, you will catch the attention of fencers, parents and employers that identify with your coaching philosophy. Tell them who you are, what you think, and what you do.
Let's have a look at James's profile and why it stands out. When you are ready to create your own, follow the instructions explained here.
Profile photo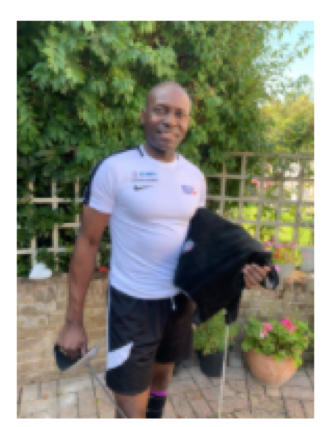 Photos are not mandatory on your Coach CV, but if you do decide to add one, be aware of some basic advice. They are a useful resource to build your personal brand and, if chosen wisely, can cause a positive impression and attract the attention of more viewers. Which of your characteristics do you want to highlight with a picture? Can you choose an image that shows how friendly, focused or approachable you are? What are you proud of being known for?
Choose a recent photo that reflects how you look in person. Natural lighting is usually more flattering than artificial light. Unless you are easily identifiable in a group picture, it's better to be the only person in the photo. Wear what you would usually wear to work – eg. sportswear, a coaching gilet, your club's uniform.
Contact details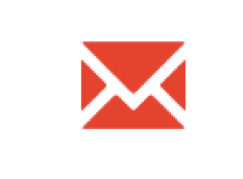 A new feature on the Coach Register is the option to display contact details, allowing coaches to be approached directly by possible employers or anyone looking for a fencing coach.
James opted to leave only his email address, liked in the icon above. It is also possible to leave a phone number. You can edit, add or remove your contact details any time via the Coach CV area in Sport80.
General information

In these fields, we see information on which level of the BF Coaching Framework James currently coaches, when he started coaching, and the rates for his individual and group sessions.
It is best practice for coaches to seek the highest professional standards, which includes pursuing self-development and further education. The Coach CV gives you an opportunity to tell us more about the Continuing Professional Development training you have been taking. Add your most relevant courses to the specific field, and feel free to mention others in the Coaching Philosophy area.
Our Coach Zone directs you to useful resources to guide you through your coaching education journey.
Coaching Philosophy

Last, but not least, the Coach CV gives Registered Coaches a chance to use BF's platform to introduce themselves, make a statement, and explain who they are as coaches. With his Coach Profile, James tells us how his journey in high performance has influenced his coaching style and explains what he learned from that experience. He also gives us an insight into his beliefs, values and expectations when it comes to coaching, as well as qualities his fencers can expect to develop with him.
The new system will be coming online in early 2021. We urge coaches to create their profiles now, ahead of the transition.
Feeling inspired to start your own Coach CV? Check out the instructions here. Questions not answered on that page can be sent to us here.