2022 BRITISH YOUTH CHAMPIONSHIPS
Last Updated: 27th April 2022
EVENT INFORMATION
Dates: 30th April- 2nd May 2022
Venue: EIS Sheffield, Coleridge Road, Sheffield, S9 5DA
Schedule: Check-in close times are listed below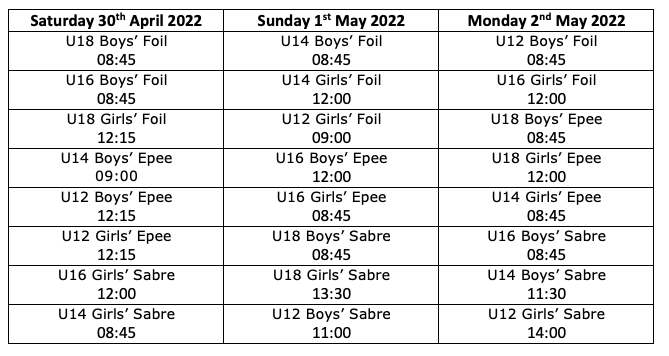 Membership Level Required: Compete (including for Regional Qualifying Events)
Check your BF membership and log into the platform here 
Entry Fee: £45
Invites have been sent to all qualifiers via Sport80. If you have qualified for the event through an RQE but have not yet received an invitation, please contact [email protected].
Event Format:
Each competition will follow the same format, one round of poules (a round robin, usually with between 5-7 fencers in a poule), followed by DE (Direct Elimination/Knock out stages). All competitors will progress to the DE (No cut).
Kit Specifications: Kit specifications for the RQEs and BYCs can be found here
Accreditation: 
How do I apply for accreditation?
Please complete this form by no later than 5pm on Tuesday 26th April. Any applications received after this might not be processed.
For a  guide to BYC Accreditation 2022, which includes some FAQs on the accreditation system,  click here 
If you have any questions about the accreditation at the BYCs, we would encourage you to sign up here for the Zoom Q&A, which will be held on Monday 25th April at 7 pm.
Covid-19 Protocols:
In line with the recent BF Medical Committee notice regarding Competition Covid Protocols, the following protocols will be in place at the BYCs 2022:
Pre-Event Lateral Flow tests are not required to attend this event, however, attendees should not attend if unwell.
We recommend wearing Face Coverings in crowded areas, therefore recommend all attendees (except those exempt) bring a face covering to the event to wear in case of being in a crowded area.
BF will be working to reduce crowding in areas, this includes the accreditation system on the field of play, spacing throughout the venue and online/mobile results to avoid crowding at screens.
We are working closely with the venue to ensure increased ventilation.
Fair Play: The BF Fair Play Code for Youth Events is applicable. See here for more information.
Rule Changes: The new passivity rule introduced on the 1st January 2019 by the FIE will be implemented at the event. Organisers of the RQE are expected to implement the new passivity rules.
Media: Please note there will be filming and photography including live streaming at this event for BF purposes. If you do not give photography/filming permission for yourself or your athlete, please contact [email protected] before the event
Sustainability: As part of BFs commitment to reducing the environmental impact of our sport, no single-use plastic bottles will be permitted on the field of play. We hope that the community will support efforts in this area and ensure that everyone brings re-useable bottles to the event.
QUALIFICATION
The British Youth Championships (BYCs) are a 24-event competition, with events in four age groups (U12s, U14s, U16s & U18s) for all three weapons.  Fencers have the opportunity to qualify for the BYCs through Regional Qualifying Events (RQEs) which will be held by each Region.
Find out more about the Regional Qualifying Events for the 2022 BYCs here
Regional qualification is calculated based on the below formula. Please note that fencers who enter, but do not fence (including those with byes), are not counted in this total.
1-16 entries = 8 qualify
17-19 entries = 9 qualify
20-22 entries = 10 qualify
23-25 entries = 11 qualify
26-28 entries = 12 qualify
29-31 entries = 13 qualify
32+ entries = 14 qualify
Byes:  Fencers who are unable to attend their RQE due to exceptional circumstances or due to international selection are able to complete the RQE bye request form here
2019 Top 8 Byes- Due to the 2-year absence of the BYCS due to COVID-19, the decision has been made not to award any top 8 finisher of the 2019 BYCs an automatic place into the 2022 finals. All finalists are required to qualify through an RQE. Fencers who received a top 8 place at the 2019 event who cannot attend their RQE can still apply for a Bye under exceptional circumstances.
The bye request process has now closed for the 2022 event 
Fencers who have been granted a bye can be found here
Event Contact: If you have any questions relating to this event please submit them via the form here